On Campus
Native American Finds His Path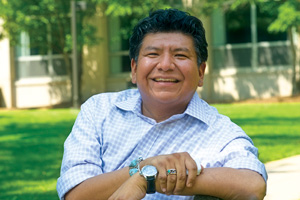 For Jack Soto, like many Native Americans, Alaska Natives, and Native Hawaiians, life often boils down to one word. Identity.
Soto, director of AU's Washington Internships for Native Students (WINS) program, is a Navajo of the Black-Streaked-Wood People and Cocopah of the Bird Clan. Being a Native American living within a broader American culture is something he understands.
A WINS participant himself while an AU student, as a graduate he came forward when a new program leader pulled out at the last minute. He agreed to become temporary director for the summer. That was four years ago.
Soto first arrived at American University as a nontraditional transfer student — he started college in his early 30s after a 15-year career in the food-service industry, transferring to AU from North Carolina State. Before starting college, his singular focus had been on someday owning a restaurant.
"What I call my Jesus birthday, 33, something switched," Soto said.
He wanted to work for Indian Country (a broad term for self-governing native communities across the country), and tribes in particular. And he knew he needed to be in Washington, D.C., where the decisions that affect Indians are formulated.
So Soto transferred from NC State to AU, where he earned a BA from the School of Public Affairs. He's now a student in SPA's master's program in organization development. For his practicum, he's working with the National American Indian Housing Council, helping the small organization become more efficient and effective.
But as a student he heard about the WINS program only after he arrived at AU. He's glad he did.
"It was a completely different experience to know that there are native people, who are my age at the university, who are struggling with the same issues that I'm struggling with, and I don't have to explain everything about myself . . . That is a completely different experience. You kind of know somebody understands what you've been through, what it's like to be you."
At AU, he was soon networking—working at organizations such as the National Museum of the American Indian and the National Indian Education Association.  He took a job with NIEA after graduation. Asked what he did there, he said, "I was an office assistant on a staff of three people. So what didn't I do there?"
Then he laughs.
Soto's laugh is one of those great, infectious laughs, an aural hug. Anyone who has spent more than a few minutes with him has heard it. His is a laugh that seems to say, "Isn't it all so absurd?" and remains joyous at the same time.
He's also a deeply serious person whose take on the meaning of a traditional native experience is hardly rosy nostalgia. He knows it's often tough for native students. He shares their experience, and he shares their struggle for identity.
Born in Gallup, New Mexico, Soto grew up in Yuma, Arizona. His evangelist father was involved in tribal politics — struggles Soto appreciates more now after his own work with Indian organizations.
Knowing about his Indian background was natural, growing up as he did near a reservation. Yet he wasn't immersed in traditional culture.
"Identity is a huge issue for [native] people my age now because we grew up at a time when tradition wasn't entrenched in our lives. I didn't grow up traditional. My grandfather when he died was the last person in my father's community, the Cocopahs, who knew the whole creation story. He knew a lexicon of obsolete words within our language. And the interesting thing about that was that no one ever hung out with him to learn."
"We know that tradition changes often," Soto said of his peers. "So we're [people my age] trying to figure out, what does it mean to be Indian? All the elders in our community [respond], 'What do you mean by that? You are Indian. Why are you asking that question? You just are Indian.' But we think there is something about the reality that is changing. Is it okay? It's okay, but we keep asking."
So Soto knows about the identity struggle WINS students — who come to Washington, D.C., from all over the country, from urban as well as rural areas — often experience. He knows that they too have internalized many stereotypes about Indians that they want to get past.
WINS, part of Washington Professional Development [formerly Washington Semester], has been at AU for 17 years. It's sponsored by the university and government agencies that provide internships. The provost's office has also been a strong supporter of the program's efforts to develop relationships with tribal colleges and universities, Soto said.
Armed with degrees and valuable experience, he dreams of establishing an Indian education center where teaching and learning are done in a traditional fashion.
He cites the example of Native Hawaiians who learn math and physics because they need to navigate, who learn astronomy because they use the stars, who learn to look at the water and know what conditions they will face.
"We don't teach math for math's sake; we teach math because we have to survive within an environment that needs us to know math. There's a whole different aspect of learning in that way."