Journalism
American Forum Tackles Teens, Sex, Media at Journalism Event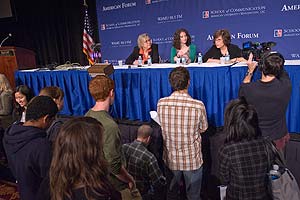 Gossip Girl. Miley Cyrus. Twilight.
The cultural references are new, but the question posed to high schoolers at the Nov. 13 American Forum predates even Elvis: how does the media influence teenage sexuality? 
Taped to air on WAMU 88.5 in December, the forum was part of the National High School Journalism Convention, which drew 5,000 budding reporters from across the country. American University professor and moderator Jane Hall and panelists Deborah Roffman and Ava Bleiberg discussed misogynistic rap lyrics and debated what 16-year-old Miley Cyrus's pole-dancing routine at MTV's Video Music Awards means for feminism.

Labeling such images disempowering, Roffman, a Baltimore-based sexuality educator, told her young female audience, "we are not yet on an even playing field with men—we need to work for a day when we're taken seriously." And media that objectify women and girls do nothing to further the cause, Roffman said.

Bleiberg, news editor of the student paper at Walter Johnson High School in Bethesda, Md., raised the issue of the media's impact on girls' body images. Shows like Gossip Girl "tell us that being thin is the only way to be."

Hall, a journalism professor in the School of Communication, challenged the young reporters to craft stories for their papers that explore taboo topics often frowned upon by high school administrators. Those issues include anorexia, sexuality, and body image.

"I believe in good reporting. There are many stories that are political and also have something to do with sexuality. You stand on the firmest ground if you do the reporting," Hall said.

Added Roffman: "You can't make anything better until you can talk about it. The media want to dumb teenagers down, so you think that sex and gender are very simple. [But] you can be absolutely powerful in calling adults to task."

The Nov. 13 American Forum was among 200 events featured during the four-day high school conference in Washington's Woodley Park neighborhood. Among those attending was Philadelphia high school senior Sarah Levin, who was chosen to Tweet throughout the forum. 
Levin, who's applying to AU, said, "the topic really excites me; this is something my friends and I debate all the time."