International
Syrian Ambassador Spars on Israel, Iraq Insurgents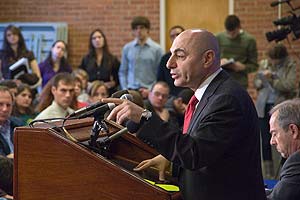 Syria's ambassador to the United States denied that his government is allowing fighters to use its borders to cross into Iraq, charging in a talk at American University that all claims to the contrary are propaganda.
Imad Moustapha gave students a close-up view of Syrian diplomacy in action as he sparred on a panel with Robert Satloff, executive director of the Washington Institute for Near East Policy.
Moustapha told the standing-room crowd at the School of International Service that Syria has a simple plan for Mideast peace: exchange land occupied by Israel for a promise of peace. Syria, he said, has negotiated three times for peace with Israel, but each time Israel has been unwilling to give back territory.
The discussion was titled "Prospects for Normalization of Relations with the U.S. and Peace with Israel." The moderator was Robert Pastor, SIS professor and senior advisor on conflict resolution in the Middle East at the Carter Center.
Israel needs to freeze building settlements before there will be a chance for peace, said Syria's ambassador, who compared Israel's approach to negotiating over slices of pie while eating more and more of it.
Syria is optimistic about the Obama administration, Moustapha said. The new administration has indicated it would rather talk with Syria than "do like the predecessor and go to the TV screens," he said.
Satloff said that the Obama administration has indeed pursued a policy of engagement with Syria, but has pursued it wisely and cautiously. Listening to Syria's ambassador, he said, was like being thrust into an alternate reality where illusion and spin passes for truth. 
Syria's only power comes from being a spoiler, Satloff said, and it has consistently played that role through its firm support for radical organizations such as Hamas and Hezbollah. The weapons it sends from its own arsenal to Hezbollah or allows to transit through its borders "are surely not a bouquet of roses for the peace process."
Moustapha slammed Syria's critics for "playing the blame game," and said he was not there to demonize anyone or counter charges.
Students fired detailed questions at the two speakers. What guarantee could Syria give that the Golan Heights, if returned, would not be used to fire mortars into Israel? What do you think of the Lebanese unity government? Why has Syria not agreed to an international process of demarcating its borders? Do you believe the insurgencies in Iraq and Afghanistan are natural and legitimate?
"This is the nature of people," Syria's top diplomat said of insurgencies. "They don't like people coming and occupying their country. I'm not condoning, I'm not condemning."
As for whether Syria is funneling insurgents through its borders, there are very few foreign insurgents in Iraq, he said. The insurgencies, he said, are "mainly home grown. Do they exist – the foreign insurgents? Yes, they do. Do we allow them to cross into Iraq? Of course we don't . . . We are actually cooperating with the U.S. military on this issue."
Those who doubt Syria's good intentions, he said, are being swayed by the work of biased organizations. "Propaganda will always be there," he said. "People will always try to sell you information that is mendacious on purpose."