Arts and Culture
Katzens, Others Monitor Progress of Arts Center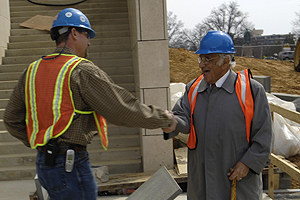 Donning hard hats and protective eyewear, about 25 people, including donors Dr. Cyrus and Myrtle Katzen and other influential members of the D.C. arts community, toured the Katzen Arts Center last Wednesday. The group, which also included AU President Benjamin Ladner and Jack Rasmussen, director of the Katzen, was in awe of the nearly-completed 130,000-square-foot facility.

"I want you to close your eyes and just imagine this building filled with students—art students, dance students, theatre students," said Steven Kleinrock of Einhorn Yaffee Prescott Architecture and Engineering, the firm that designed the building. "We're very, very close to that point."

AU will begin moving into the building in May; the official opening will be during the President's Circle Dinner on Oct. 20.

During the 45-minute tour, which was followed by a luncheon at the president's residence, Kleinrock pointed out classrooms, studios, and faculty office space as construction workers scurried about. The group was particularly impressed with the black box theatre and the 216-seat recital hall.

"I just broke in the auditorium; I sang "God Bless America" in there," said Cyrus Katzen with a laugh. The Katzens pledged the naming gift for the center, as well as a portion of their personal art collection to AU.