Arts and Culture
The Katzen's Opening Night Gala Crowns an Ambitious Vision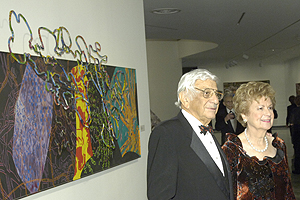 Standing by a vibrant painting, amid the sparkle of sequins and the swirl of chamber music, Lynn Katzen '71 was suddenly struck by a funny thought. She tapped her foot on the polished floor. "I used to go bowling right here," she laughed.

A few feet away, her father-in-law, Cyrus Katzen, was surrounded by a throng of friends shaking his hand at the formal opening of the Cyrus and Myrtle Katzen Center for the Arts. Everywhere the glittering crowd moved through the vast space, gazing at the colorful art and dramatic architecture and exclaiming: "Wow, look at this." "Isn't it wonderful?" "Fabulous."

In her mind's eye, Lynn Katzen—and undoubtedly a number of other alumni—could still see that long-gone bowling alley. But the passage of time, an ambitious vision, and quite a bit of generosity had brought an immense change—130,000 square feet of change, in fact. A new building full of classrooms, performance spaces, studios, and a three-level, 30,000 square foot art museum.

"It's just wonderful. We're floating," said Kay Mussell, dean of the College of Arts and Sciences, home of the various departments devoted to the arts. "The students love it. It's incredible. The faculty is so excited. It really makes a difference. And the architecture is so exciting. We're so grateful to the Katzens and all the other people who made this possible. Their generosity is amazing."

"This is something you dream about and don't often get to live," said Gail Humphries Mardirosian, chair of the Department of Performing Arts.

Much of the vast space was given over to the night's festivities. There was a red carpet in the main hallway, and tables were set with flowers and sparkling wineglasses in the rotunda, down a hallway, and under a long tent on the terrace. Desserts were prepared in a classroom, pastries in the music ensemble room.

The Katzens enjoyed the chance to see a select handful of their well-loved pieces in a setting where each could be viewed independently. "I like it here," said Myrtle Katzen, peering at a dynamic work by Nancy Graves. "It has more space."

AU, too, has a lot more space for its students and faculty. And Washington has a lot more space for art.

"We have filled this most important piece of land in this most important city with a remarkable building," acting president Neil Kerwin told the gathering. "The Katzen will be open to all who appreciate art in its many and varied forms. With this building, American University announces its great capabilities and even greater ambition."
He reminded the audience of the faculty's central role, noting that it was the inspirational teaching of AU's art faculty that gave Myrtle Katzen, who took many art classes, her warm regard for the university.

Many guests were also donors, moved to give generously to help build the area's newest landmark. Large plasma TV screens were judiciously placed at the multiple dining areas, and when a toast was proposed from the main stage in the rotunda, guests on the terrace cheerfully raised their glasses as well.

For the Katzen family, it was an evening to treasure. "It's such a wonderful gift," said daughter Linda Katzen Swartz. "It's becoming a meeting place for people to come and be creative. That's my father's spirit. I call him Super Cy. It used to be Cy the Great, but now he's beyond that."

For Katzen great-granddaughter Emily Siff, 9, attired in a black gown with a tiny set of pearls, the building inspired thoughts of the future. She likes to draw with Myrtle Katzen, is fond of Monet, and would like to be an artist someday. While she confessed to being pretty good at drawing, "I don't think you have to be good at it," she added philosophically. "You just have to draw from your heart."

As for Cy Katzen, he looked around in mock disapproval. "I'm going to tear the building down and rebuild. I think I'll build a condominium here." Well, maybe not. "It's a great building. It'll be a great thing for the university."

His great-granddaughter agreed. "I think this is beautiful," she said. "I think it was worth building."

It was certainly a sentiment shared by many.