Arts and Culture
Trojan Guards Café at Katzen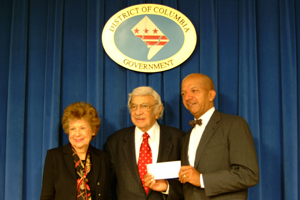 A donkey with a rooster in its belly has become the sixth "party animal" with a spot on AU's campus. "Trojan Donkey," by the famed pop artist Larry Rivers, was purchased by Dr. Cyrus and Myrtle Katzen and now stands guard by the new café at the Katzen Arts Center.


The donkey was the last piece to be sold from the 2002 public art project, because Rivers died during the course of the project, and the piece couldn't be transferred to its new owner before his estate was settled.


Mayor Anthony Williams thanked Myrtle and Cyrus Katzen for the "very generous donation to the city" of $26,000, the most money paid for one of the party animals. The money will go to arts programs and arts education in the District.