Finance
Budget Committee Town Hall Meeting Details FYs'10–11 Plan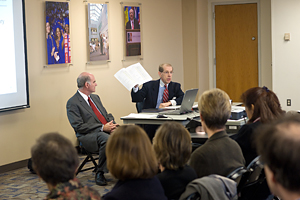 With about a month left until President Neil Kerwin presents AU's proposed fiscal years 2010–2011 budget to the Board of Trustees, university budget committee cochairs Scott Bass and Don Myers held a town hall meeting Jan. 21 to discuss the ongoing budgeting process.
"The campus is on a very solid fiscal foundation," said Bass, the provost. "As of the data 10 minutes ago, that continues in terms of enrollment and other [factors]. That is quite different from what you hear from other campuses across the country."
Unlike many universities that rely heavily on endowment income for a large part of their operating budget, AU is more tuition dependent. That means next year's enrollment is key, and according to all indications enrollment projections for the fall are "positive," Bass said.
While applications essentially are even with where they were a year ago, early decision applications are up 12 percent and early decision admits are up 4 percent.
"I can say with good conscience that not only are we not talking about cutbacks, we are talking about making serious improvements in our education," Bass said.
Built into the budget are a tuition management program and quasi-endowment, both designed to protect the university in the event of an enrollment shortfall.
"We need to be very prudent if in fact the university is affected by the economic downturn," said Myers, vice president of finance and treasurer.
As it stands now, the budget calls for a tuition increase of anywhere from 4.5 to 6.5 percent.
"We are in a very advantageous position," Bass said. "Among private institutions we are lower priced, so we have some ability to increase, especially as we want to increase quality."
The budget projections are based on a freshmen class of about 1,350, transfers of 350, and roughly 4,370 returning undergraduates.
Among the other budget highlights:
3 percent salary pool increase for faculty and staff
10 percent increase per year for health benefits
20 percent increase in the cost of utilities
"We have a very long list of requests, and we are several million [dollars] over, as we usually are at this point in the process," Myers said. "We need to bring that in line so the president can present a balanced budget to the Board of Trustees in a few weeks."