Student Life
AU Goes All-American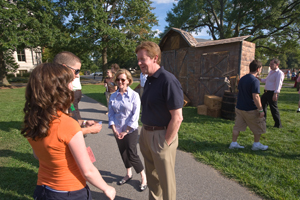 Friday's All-American BBQ featured a new twist on an old tradition, as about 1,500 students munched on a variety of sustainable foods, from locally-grown produce to organic potato salad to roasted veggie burgers.
In between watermelon slices and root beer floats, the students—mostly freshmen—chatted with President Neil Kerwin and Ann Kerwin, above, mingled with classmates, and cast their vote in a presidential straw poll, below.
They also got tips on how to be more socially responsible diners, including moving away from beef and cheese, as livestock creates 18 percent of the world's greenhouse gas emissions, and buying foods that are in season, which generally have a lower carbon footprint.