Campus News
Schools Welcome Record-Breaking Freshman Class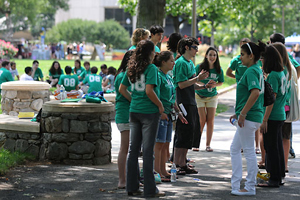 Campus was buzzing with activity last week, as 1,588 freshmen settled into their home base for the next four years.
In the days before classes started, schools and colleges hosted festivities to welcome the class of 2012—the largest in AU history.
On Aug. 22, Larry Ward, associate dean of the Kogod School of Business, praised the school's nearly 280 incoming freshmen, calling them "the most talented class of first year students—and the largest class—in Kogod history."
"You are all our rising and shining stars," said Ward to the group, gathered in the Kay Spiritual Life Center.
Taking a page from talk show host David Letterman, Kogod alumna and keynote speaker Jasmine Stringer, BSBA '01, also presented her top 10 list of "things I wish I had known in college."
Stringer, who works in sales for General Mills in the Bakeries and Food Service Division, encouraged students to seek internships and never pass up an opportunity to network. She suggested sending out a quarterly e-mail update to teachers, friends, and coworkers to keep them in the loop. "You don't just want to call on people when you need a recommendation; you have to maintain those relationships," Stringer said.
She also urged the freshmen to study abroad and take advantage of their time in Washington. "I can't think of a more exciting time to live in the city with the presidential election coming up," Stringer said. "The energy here is contagious."
After the Kogod festivities, the School of International Service (SIS) welcomed its 483 incoming freshmen to Kay.
Professor Paul Wapner described the faculty as a "group of people who put their heads together in the face of profound global challenges," including poverty, war, injustice, and environmental degradation.
"At SIS," he said, "we are all committed to understanding how the world works, with the key intention of being of service."