Campus News
Forum Discusses Draft Strategic Plan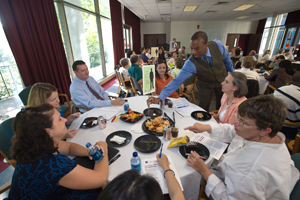 Feedback on the first draft of AU's strategic plan was gathered last week from faculty, staff, and students in the latest of a half-dozen town hall forums. It was part of the effort to maximize input from the campus community as the plan that charts the university's course for the future is crafted and finalized.
The participants took part in a small group exercise where each group adopted on the persona of an imaginary student, professor, or staffer and pictured how that person might interpret different aspects of the plan.
"What we wanted to do is force people out of their boxes, and help people find themselves in the plan," said Sarah Irvine Belson, vice chair of the Strategic Planning Steering Committee.
The plan has strategic goals that are organized around themes, such as "student centeredness," "fostering diversity," and "a high-performing organization."
But what do those themes mean to the people who work and study at AU? Learning more about that was one of the goals of the exercise, said Irvine Belson.
When a staffer with 25 years of service reads that the plan envisions a "high-performing organization" as one that aims to "create a workplace that empowers and optimizes human capital," what hopes and expectations might she have?
One group thought about it and offered a few concrete notions: more opportunities for advancement, a staff sabbatical, and a menu of benefit options for long-term staff, such as a free fitness center membership or reduced parking fees.
Other groups looked at different aspects of the plan, and tried to picture what they'd mean to a professor with a high public profile and many demands on his time, or a married grad student with concerns about landing a job.
What does it mean for AU to be "fostering diversity"? The plan offers several steps, such as "purposeful recruitment, support and retention." But as one group pictured the needs of a staff member with accessability issues, it noted that many of the older buildings aren't fully accessible.
It was one of many comments the committee will take into account as it crafts the draft of the plan that will be given shortly to the Board of Trustees in preparation for its Sept. 25–26 meeting. The draft will remain a work in progress over the course of the semester until its final version is submitted formally at the November Board of Trustees meeting.
The committee is welcoming feedback through its blog or by e-mail at strategicplan@american.edu.