International
Sierra Leone's President Tells Diaspora
the Country Needs Them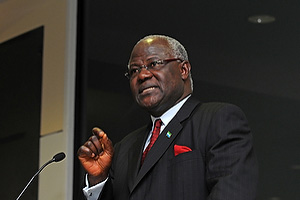 The president of Sierra Leone called on the country's diaspora to return home with their skills or invest in the country as it seeks to rebuild after years of strife.
"I am here to appeal to you that Sierra Leone needs you more than America does," said Ernest Bai Koroma.
The newly elected president spoke to the cheers of hundreds who packed the auditorium in AU's Ward Circle Building, spilled into the hall and a video-equipped overflow room, and lined up 50 deep in the aisles to ask him questions.
For many Americans, the West African country is synonymous with child soldiers, conflict over "blood diamonds," and refugees with horror stories. But Koroma sketched a cautiously optimistic picture of a country striving to find a way to pull itself out of poverty and "build a new Sierra Leone."
Over 10,000 Sierra Leoneans live in the Washington, .D.C., metro area, according to the U.S. Census Bureau. Years of brutal civil war caused so many to flee that over a tenth of the country's people were living in the United States or Britain by the time the conflict ended in 2002.
Hundreds flocked to AU to hear Koroma, who was elected a year ago on a platform of fighting corruption and encouraging business development. An overflow room in Ward was also packed with some 200 AU students, clear evidence, said School of International Service dean Louis Goodman, of the "great interest in Sierra Leone in this university."
The evening's moderator was SIS professor and Sierra Leone expert Susan Shepler, who drew cheers from the audience as "a member of the Sierra Leone community."
Update on progress after war
Koroma stopped in Washington after the recent gathering of world leaders at the United Nations to update community members on his progress in realizing election promises.
His administration has chosen to prioritize energy, agriculture, infrastructure development, and tourism, he said, because "we believe if these targets are properly addressed, it can affect a turnaround."
Organizations such as the World Bank had suspended operations in the country before he came to office, he said, but "I'm pleased to report that because of actions taken and benchmarks met, the IMF, World Bank, and other international organizations are now fully operational in the country."
Of particular interest to the audience was the Bumbuna hydroelectricity dam, which Koroma said had languished 30 years before he managed to jump-start it with help from the World Bank and others.
Corruption lingers "as a cancer in our society," he said, describing recent anticorruption legislation and moves to curb drug trafficking. He also discussed his administration's Attitudinal Change Campaign, speaking to the enthusiastic audience of the need for initiative, self-reliance, and positive change.
"Nobody else will have to do it. We have to do it ourselves," Koroma said. In response, a young man nudged his neighbor and whispered, "See? That's what I'm talking about," as others shouted out, "that's true."
Reaching out to the diaspora
Koroma urged the country's professionals, entrepreneurs, and young people who live abroad to invest in their homeland with their skills, energy, and business savvy. He stressed some of the steps the country has taken to attract them, including an Office of Diaspora Affairs, whose tasks include processing résumés of those living abroad who seek to use their credentials in the country.
When time came for questions, New York City college student Alex Kamara, who traveled to AU for the event, was first at the microphone. He wanted to ask about democratization and about back pay for pensioners like his father, who has not received his pension for two years.
Members of the diaspora lined up to ask questions about war amputees, child soldiers, roads, electricity, privatization, and investment opportunities. AU students also sent in a few questions, but it was mainly a night for Sierra Leoneans in America to talk with their president and get some answers in return.
"I've been here for 21 years," said one man, "and I've never had this opportunity to talk to my president." He and many others got that chance at AU.