Athletics
Field Hockey Team Gaining Momentum
at the Right Time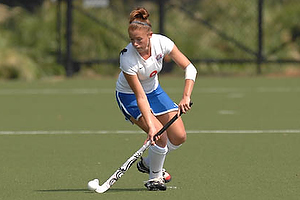 The American University field hockey team faced a murderer's row of a schedule to open this season. Though the Eagles didn't break through with any victories, the experience it gained in fighting nearly a half dozen top-ranked foes has paid dividends in the team's 3-0 Patriot League record. Saturday, the No. 18 Eagles host fellow conference unbeaten Lafayette as part of the athletic department's Alumni and Friends Weekend.
"It was a highly challenging stretch," Coach Steve Jennings said of his team's nonconference schedule. "We've played five of the top eight teams in the country, but that's the caliber of team we see ourselves among. We were quite unlucky not to win at least three of those games."
Particularly excruciating were back-to-back one-goal losses to No. 2 Maryland and No. 7 James Madison. But Jennings said his team learned from the defeats and he's pleased with the way it's playing in-conference.
"We're really moving the ball well, we're able to connect all the lines, we're better at our corner unit," he said. "The spirit and toughness of the unit is great. One of the strengths of the team is we have a great deal of flexibility. We have the ability to change from one of the most dangerous offensive teams in the county to a lock-down team. We have what it takes on a given day to find the solution. Every team you play has something different they can throw at you, and we have what it takes to counter that."
Leading the team's resurgence has been goalkeeper Alyssa Poorman and defender Tatum Dyer, each of whom have racked up four Patriot League awards. That Poorman, a senior, has played well is no surprise. She spent some of her summer participating in USA Field Hockey's high performance training squad, and after winning four Patriot League Goalkeeper of the Week awards this year, has a total of 11 for her career.
Dyer's contribution, on the other hand, couldn't have been predicted.
"She's been excellent," Jennings said of the Windham, N.H.-native. "She's come in ready to go, and she's got such a competitive spirit she's been able to step in right away."
After playing every minute on defense during Oct. 18 and 19 wins over Bucknell and Towson, respectively, Dyer won her fourth Patriot League Freshman of the Week award.
"Everyone else on the field is so supportive," Dyer said of her teammates. "As a freshman, you don't really know what to expect. It was hard during the preseason, but once the season started I felt like I knew what I needed to fix."
Not that there's ever been much broken in her game. Dyer's play has been a key in leading AU to the brink of clinching home-field advantage in the Patriot League Tournament. A win over Lafayette would be a big step toward accomplishing that goal.
"Things are definitely starting to come together," Dyer said. "We have to make the simple, easy passes and play the game the way we usually play. Make in simple."
As Poorman, Dyer and the rest of the Eagles have been demonstrating lately, the great ones always make it look so easy.