Journalism
Legendary Reporter Bob Woodward
Discusses New Book, Career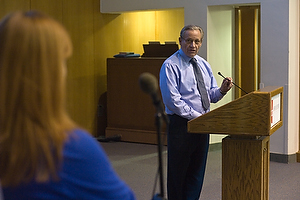 From Watergate to the Iraq war, Bob Woodward has uncovered the story behind the story of some of America's most important events of the past 35 years. His legendary career, latest book, and the profession in which he's reached the pinnacle were among the topics when he spoke to Washington Semester students Oct. 22 at American University's Kay Spiritual Life Center.
"In journalism, the business is to develop a method that will increase the amount of information available to the public about what's going on," he said. "It's my guess that we know 60 to 70 percent of what's going on in government, but the 30 to 40 percent is the most important."
Woodward helped bring down a president and vaulted to stardom as a young Washington Post reporter covering the Watergate scandal in the early 1970s. Since then he's remained among the most dogged investigative reporters in Washington, writing a dozen books and continuing to report for the Post, where he's now assistant managing editor. His latest book, The War Within, is a history of the Bush Administration's handling of the Iraq War from 2006 to 2008.
After researching the book for nine months, Woodward wrote a 21-page memo that he sent to President Bush for reaction. Bush agreed to be interviewed, and over the course of two afternoons in the White House Woodward asked the president more than 500 questions about the war that very likely will define his presidential legacy.
"You're trying to establish a relationship of trust," Woodward told the Kay crowd. "You're trying to find the driver—the main reason that's driving him. He said 'I believe we have a duty to free people, to liberate people.' I was mildly astonished."
An inability to control infighting within his administration and a detachment from details were among Bush's failings when it came to prosecuting the war, Woodward said.
"You need to create a climate where people can talk and be open and disagree," he said. "Bush had a team that worked against each other. The magnitude of stabilizing Iraq is so large not one person can do it—you need a team."
Woodward acknowledges that the war is going better today, but he believes Bush's refusal to tell the truth about its state in 2006 and 2007 created irreparable harm to his presidency.
"The reason his approval ratings are so low is because people knew they weren't being told the truth," he said.
While Woodward has remained a fixture in Washington's journalistic hierarchy for more than three decades, the profession has changed around him.
"The problem is, what is the main defining climate of news today? Impatience and speed," he said. "You have to resist that. Lots of news organizations, including my own, have not found a business model to make a lot of money. Some people will find a business model, because people need information. It's going through not just a reconstruction, it's going through a convulsion. I'm quite confident that it will shake out, and they will find a business model needed to provide investigative reporting."
At the end of an engaging and entertaining hour, it was clear that Woodward's biggest fear, journalistically speaking, is secrecy.
"The story of Nixon and Watergate, too much of the story of the CIA and certainly the Bush administration, is secrecy," he said. "We really should worry about it, because I really think it's true that democracies die in the darkness."