International
'Jerusalem Women' Recall Struggle for Peace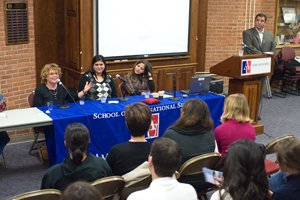 Three women of three different faiths shared their perspectives on the Israeli-Palestinian conflict Nov. 5, as part of the 15th "Jerusalem Women Speak" tour, sponsored by Partners for Peace.
Lucy Talgieh, a Palestinian Christian; Julia Chaitin, a Jewish Israeli; and Enas Muthaffar, a Palestinian Muslim; are in the midst of a 19-day tour of the United States, which takes them from Maine to Maryland. The tour, now in its 10th year, aims to educate Americans about women's peace-building efforts throughout Jerusalem.
Chaitin, a professor of social work at Sapir College near Sderot, Israel, immigrated to Israel from the United States when she was 19.
"I had $100 and two suitcases. I thought I was very rich. I thought I was set," she laughed.
Though she admits the move could have been disastrous, Chaitin quickly settled into her new home and became involved with grassroots campaigns to bring peace to the region, like Women in Black, which opposes war, militarism, and other forms of violence.
Chaitin, a mother of three, said she's learned that the Israeli-Palestinian conflict "is not black and white; there are at least two sides." She added that it's essential for people on all sides of the conflict to come together to work toward peace in the region.
Describing her hometown of Bethlehem as "a prison," Talgieh, who lost family in the Six-Day War of 1967, said she harbored a lot of anger and resentment until she began studying conflict resolution and nonviolent resistence. Today, Talgieh works as a project coordinator at the Wi-am Center for Conflict Resolution in Bethlehem, a grassroots organization that trains and educates Palestinian women and children.
Muthaffar, a self-described storyteller who owns her own production company, found her outlet in filmmaking. During the event, she shared a clip from her latest short film, Occupazion, which portrays Israelis as the occupied and Palestinians as the occupiers.