New at the Library
First Librarywide Exhibit Gives Glimpse of Afghanistan, Kenya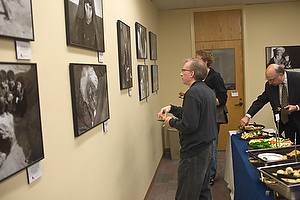 People from halfway around the world have been gazing at library patrons all semester. 
On a wall across from the circulation desk, a grizzled Afghan man with a towering load pauses on a trail. On a wall in the Mud Box, Kenyan women dig trenches for water pipes as students sip coffee. On the second floor, women in head scarves, jailed for crimes they don't understand, seem to look directly at the students curled up in cozy chairs with their books.
Traveling Mercies: Humanitarian Journeys into Afghanistan and Africa is the first library-wide exhibit held at AU's Bender Library and the largest exhibit in the library's history. During its semester-long run, which ends on Friday, it has drawn scores of enthusiastic comments.
The original intention was just to show a few photos in the space near the entryway long allocated to small exhibitions. But Aldo Magazzeni had a lot of photographs from his humanitarian trips to Afghanistan and Kenya, and the university had a lot of wall space.
So university librarian Bill Mayer decided to take the novel step of expanding the exhibit to all three floors. "It makes it a little more of a living space, a space that actually engages your mind and heart," says Mayer, who has now charged a library team with inventorying all the blank wall space for possible future shows.
Magazzeni's photographs were taken while he worked on water projects in Afghanistan and Kenya, but he didn't start out to be either a photographer or a humanitarian. He's a one-time juvenile counselor turned Philadelphia entrepreneur, whose business interests have ranged from real estate to construction to manufacturing.
By the late 1990s, he had discovered an avocation as well, mountain climbing, which took him to villages that sparked memories of his rural childhood in an Italy still devastated by World War II. He felt at home in those little villages, he told an audience of students, faculty, staff, and Washington, D.C., community members who came to hear him talk last week at the Mud Box.
He was climbing in Bhutan when the Iraq war began. A chance conversation led him to realize that whenever war comes, the victims of the last war are forgotten. So he decided to go to Afghanistan and try to make a difference.
Instead of working through formal organizations, he organizes projects on his own, working with local people and trusting to luck to introduce him to the right people. "Things can happen, if you have the willingness to do it without being about personal gain," said Magazzeni, who has established a nonprofit foundation, Traveling Mercies.
"It's a byproduct of my primary interest, which is being in relationship and working with people," he said.
His work has taken him around the world, and sometimes to dangerous places such as Afghanistan. He's been in scary scenes, with streets full of men toting guns. But so far, he hasn't felt personally threatened. His philosophy? "Trust you'll be protected if you travel with good intentions."
The AU show came about through adjunct history professor Cindy Gueli, who teaches U.S. history and has a mutual friend active in Kenya who knows Magazzeni. Mounting the show in the library brings an important dynamic to the photographs, she says. "If you're a student, it's your second home, or it should be."
Students like Peter Blank, SPA '09, have been moved by the photographs. "All of these portraits are very intimate, very touching to me," he told Magazzeni.
Mayer was excited to see the reception the photos have received. "I cannot tell you how happy it makes me to see students sit by their favorite pictures," he says. "They've really gotten to know them."
For Magazzeni, that's precisely the point. His photo subjects have always told them they see the pictures as a way to reach out and speak with Americans. This semester, they've done just that at the AU Library.