Athletics
A Banner Night at Bender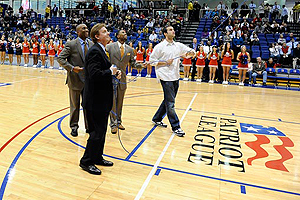 As the banner commemorating the American University men's basketball team's 2008 Patriot League championship and NCAA Tournament appearance was unveiled before the team's home opener Nov. 17, Coach Jeff Jones and his 2008–09 Eagles might have been the only ones in Bender Arena gazing toward the rafters contemplating the future, not delighting in the past.
That focus shined through during the ensuing 40 minutes of basketball, as AU rode the scoring of senior star Garrison Carr and stifling team defense to a resounding 67-46 victory over St. Francis.
But for the 2,123 fans in attendance, this was much more than just a basketball game.
Minutes before tip-off a buzz began to grow in the gym, while a video montage on the big screen flashed footage of the team's December upset at Maryland and March Patriot League Tournament title game win over Colgate. When President Neil Kerwin, Athletic Director Keith Gill, and last year's seniors, Ramone Penny and Travis Lay, pulled a blue rope that unveiled the banner hanging from the arena ceiling, Bender roared as it did eight months before.
"This championship banner will forever remain above the Eagles home court," the PA announcer declared as the crowd roared.
The fans continued exercising their lungs for much of the night. A minute and a half into the game, the first two of Carr's game-high 28 points gave AU a 2-0 lead, and the Eagles never looked back.
"When the banner [was revealed], I was thinking about St. Francis," Carr said. "I put a little more pressure on myself to play well. When last season was over, I thought about all the things we accomplished, but shortly after that I was focused on this season, because we have more to accomplish this year."
After a tough opening night loss at No. 12 Oklahoma, AU responded by utilizing a nice blend of veteran leadership and youthful energy against St. Francis. Senior Brian Gilmore's thunderous dunk was among the highlights of the first half, which ended with 6-foot-8-inch freshman Stephen Lumpkins rejecting back-to-back Red Flash shots. Carr, who missed his first six three-point attempts, canned his next five, including consecutive threes that effectively put St. Francis away after it had crept back to within 15.
Senior point guard Derrick Mercer added 11 points and a game-high four assists as AU exhibited the poised, balanced attack that led Patriot League coaches and sports information directors to predict another conference title for the team.
If AU is to defend its crown, it must find a way to put last year's unprecedented success behind it, a challenging task on a campus that ate up every moment of last year's first-ever trip to the Big Dance.
"It's such a feel-good thing around here, it can seduce you," Jones said. "You can't get caught up in it. [Last year] doesn't do anything to help us on our journey to get there again."
Still, it wasn't all business as usual for Jones Monday night. Asked after the game about seeing the championship banner for the first time, a smile crept onto his face.
"It was nice. Hopefully someday we'll have a chance to do it again. I didn't want to be Scrooge; I wanted to the moment to come and be a good one, and then let's move on."