Government and Politics
Presidential Transition Needs Clear Goals, Says Jones Award Keynote Speaker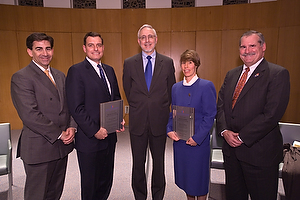 Clear goals are the key to a successful presidential transition, said Clay Johnson III, who headed the Bush-Cheney transition team and delivered the keynote address at the ceremony for 31st annual Roger W. Jones Award for Executive Leadership.
Given by the School of Public Affairs, the award honors two federal career executives for commitment to excellence, leadership, and professional development. 
This year's recipients were Thomas Betro, director of the Naval Criminal Investigative Service, and Theresa Whelan, deputy assistant secretary of defense for African Affairs in the Department of Defense.
Johnson spoke of the presidential transition as a time when the president-elect is "at the receiving end of this tsunami of incoming" just as he finishes a grueling period on the campaign trail.
"He's just spent two years running 24 hours a day, seven days a week. The candidate, and everyone else on his team, are exhausted, joyful—they've conquered the world and are now ready to take the U.S. to a better place, and the world with it. Now it's the day after the election, with all that emotion, energy, or lack of it, and you have to start all over. It's an unbelievable challenge," he said.
People are coming at the candidate from all directions. They're giving advice, applying for jobs, trying to be part of the vision. The president-elect won't just have to appoint new people. He'll have to have a team who can prepare the new people, in a few short weeks, to take over their new responsibilities.
The only way to succeed, he said, "is to have really, really good goals."
Johnson is deputy director for management at the Office of Management and Budget and author of An Insider's Guide to the Presidential Transition.
"Someone said, if you have 10 hours to get a thing done, take nine hours for the goals," he said. Goal setting extends to the departments themselves. "It's really clear to me you can't have a purposeful, effective government if you don't have clear goals. The transition is the epitome of this."
But the notion extends to management in general, he said, noting that the Roger W. Jones Award recipients exemplify effective management in the government sector.
Betro said he attributes his success to two main factors: "You have to have a mission that motivates you, all the time. And you have to be surrounded by people who inspire you every single day."
Whelan, too, praised her colleagues for their inspiration. "It's the fact that these uniquely talented individuals pull together as a team that makes our office what it is."
The Roger W. Jones Award was established in 1978 to recognize public servants in the federal government whose careers are marked by extraordinary effectiveness.