Athletics
Eight is Great for Volleyball Team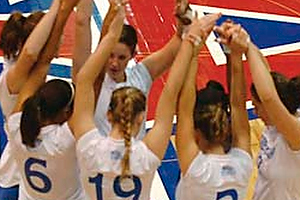 After hundreds of victories, the wins can start to blur. Yet American University volleyball coach Barry Goldberg savors each and every one, perhaps none more than last month's eighth straight Patriot League Tournament championship triumph.
The Eagles took home the league title and automatic NCAA Tournament berth by shaking aside a feisty Colgate team on Nov. 22 at Bender Arena. Their reward: host status for the first two rounds of the NCAAs. AU will face North Carolina Friday at 7 p.m. in Bender Arena, with the survivor advancing to Saturday's 6 p.m. second round match against the Delaware-Oregon winner.
Taking on the Tar Heels from the ACC is a tough task, but whatever happens in rocking Bender Arena this weekend, Goldberg is proud of what his team already has accomplished this year.
"Eight in a row is pretty incredible when you look back on it," Goldberg said. "Time flies when you're having fun. I honestly believe this is one of our most complete teams. I think the team is more special in terms of the abilities we have. We're a little deeper, we have a couple good subs ready to come in. Most of the season we all played pretty well. When all of our players have got it going we're a formidable team."
That depth shined through against Colgate, which beat regular season co-champ Army in the semifinals. Freshman sensation Rebecca Heath shrugged off a sore shoulder and senior star Rubena Sukaj was her normal dominant self in the 3-1 win.
"We started off defensively really strong," Goldberg said. "Their attackers had a hard time getting the ball past our big blockers. Our diggers were really strong. As the match went on, they improved, they started hitting around our blockers better, we were a little slower reacting. We didn't attack the ball quite as well. In game three we pulled out Rebecca and we just didn't seem to have the same rhythm. We tried to use Rebecca later on in the game as we were down, and she made a big kill. We didn't serve the ball well at times, but when we did serve the ball in we served it pretty tough."
After taking Thanksgiving off, the team returned to the practice floor to work toward securing what to this point has eluded AU: a NCAA Tournament win. Goldberg hopes changes he implemented last year designed to make the team mentally sounder will pay dividends on the national stage.
"This season we've had an overall theme of controlling our mind a lot better, and being stronger through the ups and downs of a volleyball match," Goldberg said. "There's been a lot more emphasis on it on the whole. We'll see if we're actually able to be stronger when we get into the tough competition in the tournament."