Athletics
Wrestling Team Aiming for Top 15 Finish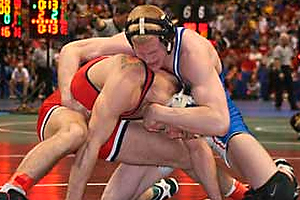 Nothing spurs athletic growth more than competition. In year seven of the Mark Cody era, the American University wrestling team has finally reached a point where the competition it faces in matches around the country is just slightly more intense than the battles waged during practice in its own wrestling room.
Sporting a roster that for the first time runs two-deep at all 10 positions, Cody is expecting big things from his Eagles this year.
"I think for the first time we have a very balanced line-up," he said. "I don't think we have any weak links. We have enough firepower to be in the top 15. The attitude right across the board is great."
Results this young season so far have demonstrated just that. Junior All-American candidates Mike Cannon and Kyle Borshoff each went 4-0 during the Nov. 29 Northeast Duel meet in Albany, N.Y., defeating wrestlers from No. 6 Oklahoma State and No. 15 Central Michigan. Each moved up one weight class this year, a transition that hasn't slowed either down.
"I feel like it doesn't matter what weight I wrestle, I'm going to be wrestling the same quality guys," said Borshoff, who moved from 141 pounds to 149. "It's the same game."
Both credited AU's expanded roster with fostering the team's growth. Increasing his squad's depth has been one of Cody's goals since he took over a nearly dead program in 2002. A full collegiate wrestling team ideally should have between 45 and 50 athletes, Cody said. AU has 24 this year.
"When you have other guys at your weight that are wrestling for your spot, it makes you wrestle a little harder," said Cannon, who jumped from the 165-pound division to 174. "It changes the whole mentality of the room."
Borshoff, one of four returning NCAA qualifiers from a year ago, agrees.
"It [positively] affects our team morale," he said. "There are a lot of people in here to work out with. Everyone's working hard, everyone's pushing each other. You can get different feels from a bunch of different guys. We can go five or six goes with five or six different people in a row."
The depth already is paying off. Cannon and sophomore Matt Mariacher took home titles at the Keystone Classic Nov. 23 in Philadelphia. Seniors Andy Silber and Chris Stout and junior Jasen Borshoff (a third Borshoff brother, freshman Corey, also is on the team) also will be in the mix for spots in the NCAAs.
"I have several guys who have All-American potential," Cody said. "We're just waiting for somebody to step up. It depends on how they respond to wrestling this top competition, and if they're going to correct their mistakes. Who's going to be the most diligent about doing that and staying focused?"
Thomas Williams could well fill that role. A prize recruit from California, he was ranked fifth in the country coming out of high school.
"He's a guy who's going to be real diligent about working hard to do what he needs to do to make his weaknesses his strengths, and his strengths stronger," Cody said. "He's that type of individual."
The Midlands Championships, which begin Dec. 29 in Evanston, Ill., will provide a good barometer of just where the team is right now. Among the competition will be national powers Iowa and Iowa State.
"We don't have anybody right now that's not working real hard," Cody said. "I'm happy with every one of them in terms of the time they're putting in. Now is the time during the season we're going to find out what they're made of. Practice goes to another level, the competition goes to another level."
This year it's a level these Eagles will be ready for.