Law
Civil Rights Trail Blazer Returns to Speak at King Birthday Commemoration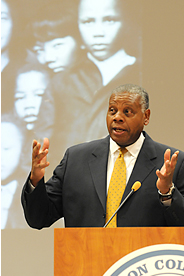 A decade after he spoke at Washington College of Law's inaugural Martin Luther King Jr. Birthday Commemoration, professor and pioneer Perry Wallace returned to deliver another keynote address at a very different time in history.
Speaking on Dr. King's actual birthday, Wallace, the first African American to play college basketball in the Southeastern Conference, discussed openings and challenges presented by Barack Obama's historic ascent.
"Openings have been known to close, and openings have been known to narrow," said Wallace, a professor of environmental law. "Obviously the election and imminent inauguration of America's first African American president is an opening, and accordingly this occurrence presents us with immense possibilities for racial progress. It's an opening, but it brings with it challenges. Openings can close, and openings can narrow."
Wallace focused on the post–Civil War era and the civil rights movement, using them as examples to demonstrate the challenges that come hand in hand with advancement.
"Reconstruction produced a mixture of important progress and disappointing, although not surprising, resistance and retrenchment," he said. "It left most African Americans in a state of second class citizenship in all important domains. Growing up in the South I well remember the challenges facing African Americans. Separate but equal was a joke, of course, that described the legal segregation of the races. It was cruel and injurious in every respect. We were separate, but we were not equal."
Raised in Nashville, Wallace in 1966 led his high school to victory in the first-ever integrated Tennessee state high school basketball championship tournament. He went on to star at Vanderbilt University, where he broke the SEC's color barrier. Inside gyms in Alabama, Mississippi, and throughout the deep south he endured raw abuse and hatred, an experience he has never forgotten yet did not let define him.
"It's been a sad delight, a strange combination of worlds, but I've done so well in working with people outside this country, and the reason is because I learned in segregation how to be a good foreigner," he said. "I learned how to respect the culture of the people in whose country I lived. I learned how to learn their values, be sensitive and to make the requisite compromises. What a sad delight to do so well once I began to travel around the world."
Like millions from his generation, Wallace views Obama's election as a seminal moment in America's racial journey.
"The symbolism of this occurrence is huge," he said. "This American society that at one point had taken on the harrowing decision to own people and has been suffering ever since, this American society has elevated a black to the highest position of power in the land."
But obstacles, of course, await.
"One challenge, I think, is not to lose our spirit and our nerve once this honeymoon is over," he said. "That's going to be pretty soon because we're in such big trouble. We've got a ways to go, and we're going to have to work together."
Having played a historic role in America's long and ongoing march toward equality, Wallace's words carry the weight of wisdom gained through experience.
"I hope that we understand that this struggle for justice will of course have to continue," he said. "This problem is wide and deep and it started because America made a fateful decision, and we've been struggling with it ever since. But we can struggle with unity, we can struggle with dignity, we can struggle with a sense of the human spirit that was in fact what helped us be so strong in the American civil rights movement.
"I want to invite us all to take this opening, don't let it close, and don't let it narrow. Let's widen it, but to do that, we've got to take on the challenges."