Campus News
Teaching Improves the Mind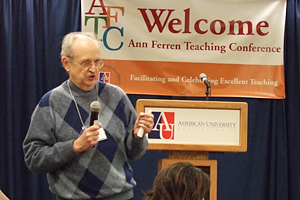 The 20th annual Ann Ferren Teaching Conference on Jan. 9 featured a special guest—Ann Ferren herself—and keynote speaker Ken Bain, left.
"If you google good teaching, you are sure to see Ken Bain's name pop up," said John Doolittle, associate director of the Center for Teaching Excellence.
Bain, vice provost for instruction at Montclair State University, is author of What the Best College Teachers Do.
"Cultivating human learning is enormously complex, and it requires very deep thought on our part," Bain told the crowd at the Mary Graydon Center. "The most important insight into human learning was the very profoundly powerful but extremely simple idea that what human beings do when they learn is they construct a sense of reality."
Ann Ferren, who founded the teaching conference that now bears her name, joined AU in 1971 as an adjunct professor in the School of Education. She eventually rose to become interim provost and vice president of academic affairs from 1993 to 1995. She's now provost at American University Bulgaria.