Campus News
Marian Wright Edelman: America Must Heed Obama's 'Call to Service'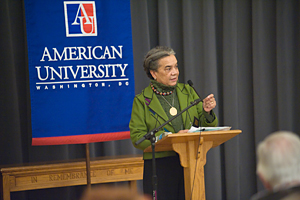 Barack Obama's inauguration is a "miraculous moment," but its promise can only be realized if it's seen as a "call to service." 
That was the message of legendary Children's Defense Fund founder Marian Wright Edelman at AU's annual R. Bruce Poynter Lecture. Edelman contrasted the heartening image of the Obama family with the tragedy of the broader "American family" in which one in six children is in effect, neglected.
She asked the audience to envision a family of six children in which five are given enough to eat, a room full of books, enriching schools, and medical care. The sixth child, though, often goes hungry, is sent to an inadequate school, barely learns to read, is allowed to wander the streets, and gets so little medical care that a tooth abscess could be fatal.
That, she said, "is the 'American family' today—where one in six children lives in poverty"—13.3 million children, a number that has probably increased with the financial crisis. "The most dangerous place for children to grow up today is at that intersection of race and poverty," she said, and while Obama's presidency may show that American has made "great leaps forward" in its thinking on race, "it's not a post-racial society."
Over 80 percent of black and Latino children are not reading or computing at grade level. One of three black boys will go to prison, along with one in six Latino boys and one in 17 white boys, she said.
Society is making the wrong choice, she said, by investing heavily in prisons while failing to provide comprehensive medical coverage for children or invest sufficiently in schools. "We have pushed so many of our children into small and leaky boats without a compass," Edelman told the audience.
She encouraged the audience to see the message of Obama as a call to individual and collective sacrifice. "This prospect and hope of healing and new community is so exciting," she said, "but it's going to take a lot of work."
"An Evening with Marian Wright Edelman: Charting a Course for the Next Generation" was the seventh annual Poynter Lecture, a series of speakers who exemplify the highest ideals of justice and compassion. Previous speakers have included the late William Sloane Coffin, comedian and activist Dick Gregory, and Congressman John Lewis and Oakland mayor Ron Dellums.