In the Community
Activists Share Joys, Challenges of Service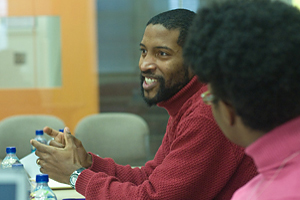 Asked why he devoted his life to community service, founding an after-school program for at-risk children in D.C., Ayize Sabater's, left, answer was simple: "So much has been given to me, I feel compelled to give back."
Sabater, CEO of M.O.M.I.E.'S. TLC, was one of three social activists who discussed the joys and challenges of community service, Jan. 23. Alumna Jennifer Arboleda, program coordinator, Big Brothers and Big Sisters of Washington, D.C., and SIS senior Rosa Williams, who has spearheaded several community service projects also spoke.
Williams just returned from a semester abroad in Nigeria, where she raised money for children's education and health initiatives. "I think I was just born to serve," said Williams, who was raised by her grandmother in a small North Carolina town. "It's just in me to do this work." She's also worked with Facilitating Leadership in Youth (FLY) and started her own nonprofit, Distinctive Class Youth, which promotes financial literacy among high school students.
The discussion was sponsored by the Office of Multicultural Affairs.