Communications and Media
George Clooney Packs House for SOC-Newseum Reel Journalism Event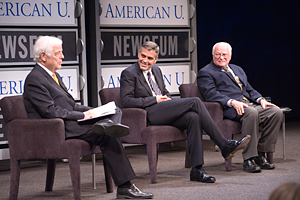 Still in a celebrity mood barely a week after record crowds lined Pennsylvania Avenue to welcome President Obama, D.C.'s politics and film fans packed the Newseum on Monday evening. There they greeted Hollywood star George Clooney at another sold-out Pennsylvania Avenue event.
Clooney flew East at the request of his father, longtime broadcast journalist Nick Clooney, for a Reel Journalism Festival screening and discussion of Good Night and Good Luck. Father—the evening's moderator, and son—the writer, director, actor, and producer of the 2005 film nominated for six Academy Awards, were joined onstage by one-time CBS bureau chief Bill Small.
Good Night and Good Luck tells the story of legendary broadcaster Edward R. Murrow, whose editorial courage on his 1950s CBS show See It Now exposed Senator Joseph McCarthy's demagogic anticommunist crusade to millions of TV viewers.
Every segment of last Monday's crowd got what they came for—the easy father–son onstage banter, insiders' filmography tips, gossip, and the back story on Edward R. Murrow and CBS News. But moderator Nick Clooney, journalist in residence at American University's School of Communication and the Newseum, noted from the outset that the evening would examine the way "films and news have and have not mixed over the years," and he directed a question at George: "Why did you shoot the film in black and white?"
"A film has to entertain . . . but we really had to get everything accurate enough on this film . . . great thing about sourcing a movie about journalists is that they have all written a book," Clooney chuckled. The producers quickly realized that they couldn't cast an actor to play McCarthy whose own "larger than life" presence was best captured in actual black and white news footage, so the rest of the film would be shot to match.
A student's "thank you for bringing this story to my generation," underscored and refocused both panelists and audience on the seriousness of today's communications revolution.
"It is always a mistake to underestimate our audiences; we are always wrong" replied filmmaker Clooney, whose 2005 film brought home the point that serious films can be profitable. Professor Clooney picked up the theme with the warning—"We are also in trouble if we overestimate our audience . . . You will get the news you ask for and nothing more." The fallout of the ongoing communications revolution is that, "We do not know how people will make a living in news. They will, but we do not know how it will be done . . . If you look for and consume only 'boutique news' tailored for your interests, you will not get the best of the fourth estate." In Good Night and Good Luck, Clooney and Small show us what the best can be.
Reel Journalism next presents Citizen Kane (1941) with panelists: Tom Shales, SOC '67, Washington Post; Frank Mankiewicz, chair of Hill & Knowlton and son of Herman Mankiewicz, cowriter of the film; on Feb. 23, 7 p.m., Newseum.