Campus News
Ari Fleischer, Dee Dee Myers Reflect on Years as Presidential Spokespersons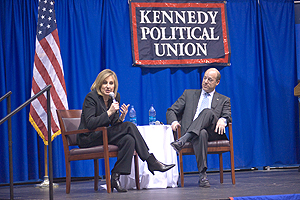 The atmosphere in Bender Arena last Thursday was much more relaxed than the white hot glare of the spotlight they used to work in, but former White House press secretaries Ari Fleischer and Dee Dee Myers still were on the top of their games.
The pair discussed their paths to the White House briefing room podium during the Kennedy Political Union event, and dished out a little advice for new Obama spokesman Robert Gibbs.
"In the opening months of the administration, it's the president who sets the tone," said Myers, President Clinton's first press secretary, and the first woman to hold the job. "There's a lot the press secretary can do to contribute to that. Robert Gibbs has played an important role in the campaign. I think he's one of the most powerful press secretaries we've seen in some time. He will succeed by building a relationship with the press based on access, reliability, and transparency."
While the press secretary's interaction with the press corps is a vital part of the job, the person in the position cannot forget that ultimately, he or she works for the president, Fleischer said.
"There are so many needs you have to balance, including the needs of the press corps," said Fleischer, President George W. Bush's first press secretary. "For Robert Gibbs the biggest challenge is going to be finding the proper balance between being an advisor and being a briefer. It is said that the press secretary has two masters, but you only have one master who pays your salary."