Campus News
Multiculturalism Conference Examines Elections in Oaxaca, Mexico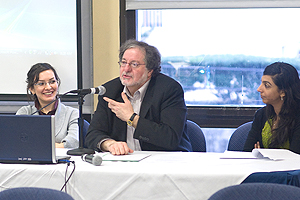 More than 50 academics and practitioners from the United States and Mexico gathered at AU in February to discuss customary law—unwritten law established by custom—and its effects on local elections in Oaxaca, Mexico. The two-day event was part of a three-year, $300,000 grant led by School of Public Affairs professor Todd Eisenstadt.
As part of the grant, Eisenstadt and doctoral student Mike Danielson, along with colleagues in Mexico, spent eight months in the field, surveying officials in hundreds of rural hamlets.
The authors released partial findings of their study for the first time at the conference.

"Customary law may have improved participation by some citizens in local elections," said Eisenstadt. "But some applications of customary law also discriminate against minorities, such as all women and men residing in disenfranchised outer communities. And the secret ballot is rarely respected, meaning that people vote in communal assemblies where everyone can see how they raise their hands or hash mark a chalkboard, and the stronger can punish the weaker for how they vote."
The grant concludes in September, when Eisenstadt and the team will submit a manuscript edited from the papers presented at the conference.

"Multiculturalism is messy and difficult to achieve, but it is also an essential part of celebrating difference and harnessing them to make us all stronger," he said.