Campus News
Provost's First Faculty Summit Draws Hundreds of Faculty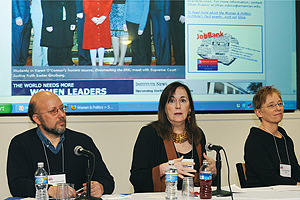 One of the things Provost Scott Bass has heard since his arrival at AU last summer is that faculty want to work across colleges and schools, but they simply don't know colleagues in other AU units. 
That was one of the topics of the 2009 Faculty Summit, "Building Community: Empowering Faculty," which drew hundreds of faculty to campus for a Saturday of workshops and talks.
More than 80 faculty registered for the most popular workshop, on working across disciplines and schools. Registration for workshops, Bass noted, gave insight into faculty concerns. Other popular workshops included:

understanding the 100 percent workload and balancing all of one's academic obligations
working with local community organizations

the agenda for the new vice president for graduate studies

contributing to the strategic plans of departments and schools
The faculty summit was part of what promises to be a long-term effort to enable faculty to achieve goals that have at times been elusive for reasons that can range from bureaucratic roadblocks to a simple lack of information.

There are, for instance, faculty on campus who are noted for their ability to reach out to the community or find funding for their centers. But there hasn't always been a way for them to share their expertise with colleagues.

A panel featuring several faculty with effective, successful centers was an effort at spreading information more widely and opening up a conversation. 
The day began with a talk by Bass that detailed some of AU's plans, including 23 new faculty lines and some 90 new positions in critical staff and academic areas. Of course, that takes money, so Bass filled faculty in on the university's current financial situation.
In spite of the economic crisis, he noted, AU's position is reassuringly secure at the moment. Being 95 percent tuition dependent, with little endowment income used in the operational budget, means that AU isn't as impacted by stock woes as schools that rely on once-hefty but suddenly shrinking endowments for their regular operations.

So as long as enrollment holds—and the signs are good, with early decisions up 8.8 percent and more than 15,000 applications for fall 2009—AU may well have "dodged the bullet," Bass said.

Before the budget could be deeply affected, enrollment would have to drop significantly, he said. Even then, most of what would not be funded would be increases rather than regular operations. For instance,  the university could respond by delaying the start-up of new positions. However, present signs are good that ambitious goals can be pursued effectively in spite of the current economic downturn.
What are those goals? Some of them involve faculty development, and one way many faculty would like to develop is by working increasingly across departments and schools. But in practice, faculty noted in one workshop, this can be elusive.

It was agreed that students entering an increasingly multidisciplinary world are not well-served if they're not trained to think in many different ways. Faculty, too, benefit in many cases from cross-fertilization between disciplines.

But how, precisely, to pursue that goal? In one workshop, a series of suggestions were raised:
start a clearinghouse, perhaps in the mode of the popular online listing service "Craig's List," to communicate about possible collaborations

take into account the potential for collaboration in allocating new faculty lines
analyze incentives and disincentives to collaboration
organize seminars with an eye toward drawing faculty with related interests who work in different departments or schools, for instance, Latin American specialists
Bass moved around the workshops, listening for some time in each, and deans of the schools and colleges were in attendance.

Between workshops, faculty and administrators went together to Bender Arena and cheered as their students trounced rival Holy Cross in men's basketball—the teamwork on the court serving, as it were, as an encouraging sign for AU's future.