Professional News
SOC Professor's Film Debuts at Houston Museum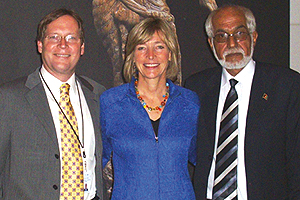 The School of Communication's Maggie Burnette Stogner was in Texas this February to celebrate the opening of the Afghanistan: Hidden Treasures exhibition at the Fine Arts Museum in Houston. The exhibition, which features Stogner's award-winning, 30-minute, National Geographic film of the same name, runs through May 17.
Stogner, with archeologist and National Geographic Fellow Frederik Hiebert, left, and Omara Khan Massoudi, director of the National Museum of Afghanistan, Kabul, was also joined at the opening by former first lady Laura Bush. Bush thanked everyone for their support of Afghanistan and continued efforts to rebuild schools and infrastructure.
The longer version of Afghanistan: Hidden Treasures, produced by Stogner, will air on local PBS stations in Texas over the next several months.
Narrated by  by Khaled Hosseini, author of The Kite Runner, the film won two CINE Golden Eagle awards, and was named an official selection of the 2009 Newport Beach Film Festival. Six SOC grad students worked on the film; Professor Larry Engel also served as Washington, D.C., cinematographer.