Athletics
Men's Basketball Team  Returns to Patriot League Tournament Final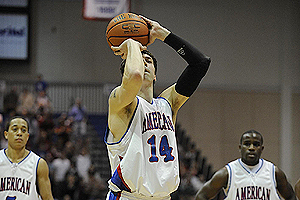 Two down, one to go.
The AU men's basketball team is a lone victory from defending its Patriot League Tournament crown and punching a ticket to the NCAAs. After more than eight decades of basketball without making it to the Big Dance, the Eagles now sit poised to begin a two-year streak of postseason success.
The Patriot League Tournament Championship Game is scheduled for Friday at 4:45 p.m. at Bender Arena. The game will be nationally televised on ESPN2.
Getting there hasn't been easy. After soundly defeating Lafayette in the first round of the conference tournament, AU squeaked by Army 61-60 on Sunday. The Eagles weren't able to breathe a deep sigh of relief until senior Brian Gilmore hit a foul shot with 3.6 seconds left, and Army's desperation half court heave fell short.
"You can't overlook anyone in this league," said Gilmore, who scored a game-high 19 points despite battling foul trouble all day. "We knew Army was a great team. I think there's a lot of people out there that thought this would be an easy game just because we played so well against them in the first two games. Army played great, we were lucky to get that win."
Army led by seven after a first half in which it dictated the pace and style of play. AU seemed a bit sluggish and tentative coming out of the gates, which opened early. Tipoff was at noon, but everyone's body clock read 11 a.m.
Playing in front of a large and boisterous crowd, despite the fact that many students are away for spring break, the Eagles came back strong in the second half. Led by Gilmore, who scored a dozen straight points during one stretch, AU climbed back into the game, and were able to tie it on a Gilmore three-pointer with 40 seconds remaining.
After an Army miss, Patriot League Player of the Year Derrick Mercer drove the ball down the court and fired a bounce pass that Gilmore was unable to handle. The senior did manage to wrestle the loose ball away from the Black Knights and was fouled while in the act of shooting.
"It was by sheer effort and scrap that we came up with the ball," head coach Jeff Jones said. "Quite honestly, in that situation an official doesn't want to make a call, but because we got after it so hard, they had to make the call."
The crowd gasped after Gilmore came up short on the first free throw, but he calmly sank the second as the fans held their collective breath. After Army's last-ditch effort fell short, Bender Arena erupted.
The atmosphere should be electric again on Friday, when the Eagles try to defend their title.

Tickets to the Patriot League Championship Game are on sale now and are available only through AUEagles.com. Tickets are priced at $16 for adults and $8 for youth. Students with a valid AU ID will be admitted free on a first-come, first-serve basis. More tickets will be made available throughout the week as they become available. Please visit AUEagles.com or call 202-885-TIXX for more information.