Academics
Honors Students Lauded for Accomplishments, Leadership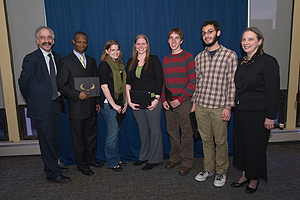 Sam Hagedorn was the second youngest delegate elected to the Democratic National Convention and chronicled the event for the Eagle.
Kate Lindsey speaks French, Arabic, and Russian; Aaron Montenegro founded a language exchange program for AU's 80 Aramark employees.
Bill Flynn will have taken 10 graduate-level math courses and every physics class offered at AU upon his graduation next year.
These undergrads were among 27 students—all with equally enviable résumés—recognized at the annual Honors Awards Ceremony, Feb. 25.
"We expect great things of our top students and somehow, they still manage to surprise us with their accomplishments, maturity, and leadership," said Michael Mass, director of the Honors Program, which boasts 1,000 students. "Attracting, retaining, and delighting our top students is a critical piece of our strategy for strengthening American University."
This year's winners include:

Outstanding Honors Freshman
Ellie Ezzell, Sam Hagedorn, Emily Hoerner, Seth Wyngowski

Outstanding Honors Sophomore
Jennifer Knauss, Ashley Kongs, Kate Lindsey, Brian Waligorski

Outstanding Honors Junior
Bill Flynn, Michelle Holleran, Aaron Montenegro, Sonia Tabriz

Outstanding Honors Senior
Katie Beran, Molly Kenney, Hamissou Samari, Jacob Shelly, Andrew Wolf

Outstanding Leadership in the Honors Community
Trent Buatte, Rachel Cannon, Alexander Priest, Rachel Rosenthal, Jon Weakley

Honors Scholar Award
Carrie Johnson, Josh Levitz, Farley Miller, Thais Miller, Elizabeth Royall

Honors Professor of the Year
Peter Howard, School of International Service

Outstanding Staff Contribution to the Honors Community
Tiffany Sanchez, director, New Student Programs

Outstanding Honors Alumni
Christopher Jacobs, SPA/CAS '01