Fiction
Author Jayne Anne Phillips Says 'Writing Is Our Religion'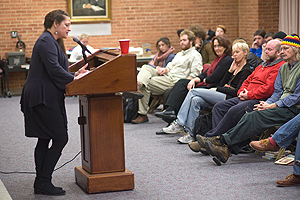 Jayne Anne Phillips, whose much anticipated Lark and Termite hit bookstores in January, is the latest award-winning novelist and short story writer to share her thoughts with MFA students.

Phillips first book of stories, Black Tickets, was published when she was just 26, but still she didn't dare expect to make a career of writing.

"We live in a country that is literate only in the most basic sense of the word. People read for information and entertainment, but not for meaning. I never expected to make a living as a writer, and I tell my students the same thing. We do this because it is our religion," not because it pays the bills, she laughed.

Phillips urged students not to "put the pressure of making a living onto your creative work."

"You have your whole life to publish. Right now, you need to work on your work."

Director of the creative writing MFA program at Rutgers University–Newark, Phillips often sets her work, including Shelter and Machine Dreams, in her native West Virginia.

"People write about a place because it comes from love, a very complicated—push-pull love," she explained. "It's lucky for an artist to be born into a place full of stories, and [West Virginia] is one of those places."
Since it began in 1981, the Visiting Writers Series has introduced MFA students to more than 300 highly acclaimed and influential writers, including Pulitzer Prize winners and National Book Award finalists.
 
Edward Jones, Grace Paley, Jamaica Kincaid, and Colm Toibin are among the literary greats who have explored their work with students, chatting about everything from the writing process to the books on their bedside table.

Connecting writers and readers in an intimate and friendly environment, and "supporting great literature of many kinds," is the program's mission said Richard McCann, professor of creative writing and program director.