Television and Film
Making Films Matter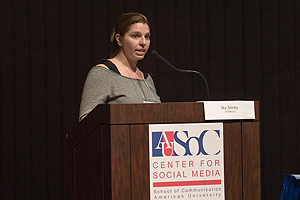 Students shook hands with a media vice president. They swapped cards with documentary makers. And they mingled with professionals who came to learn from leaders in the field—award-winning filmmakers, festival organizers, the director of the Sundance Documentary Film Program—about making media that makes a difference in the world.

Making Your Media Matter 2009 was the fifth annual conference on socially engaged media-making hosted by the Center for Social Media. This year it drew 300 participants, some from as far as India and Nigeria.

The media landscape has changed dramatically in the last few years, and the conference itself is a sign of those changes. It began much smaller, as a simple afternoon of panel discussions, and under a different name: Making Your Documentaries Matter.

Documentaries are still at the heart of the two-day event, and making an impact is what it's all about. But how they're made, shown, and distributed is evolving rapidly, and the panels and discussions reflected that. "A film festival is no longer your higher aspiration. Now it's to reach your audience and build communities," says Pat Aufderheide, the director of the center, which is based at the School of Communication.
  
After all, if your passion is for creating media about social issues, and you want to make a real difference, then it isn't enough for a film to be seen. It should drive behavior. It should inspire viewers to go to a Web site and donate a few dollars to help victims of genocide, or join a campaign on global warming, or at least hit "forward" and send a dozen friends a link to the video.

For Sandra Mbanefo Obiago, a filmmaker from Nigeria, the aim is saving lives. Her recent film focused on a dangerous myth that has gained currency in Nigeria: the idea that taking a lot of antibiotics preventively will ward off AIDS. Working with some 100 television stations in the large and populous African nation, Obiago and her organization, Communicating for Change, are getting the truth out through film.

While that's still a relatively traditional model of distribution, Obiago developed her ideas by discussing issues directly with the people affected. One of the most-discussed topics at the conference was how communication is changing between filmmakers and audience.

When the conference began five years ago, it was still the early days of Web 2.0. "One of the things we've found over time," Aufderheide says, "is that we have to showcase how the model is changing. In the past, filmmakers who've made independent films made films they thought were important, about important subjects, then just expected to get them out to a mass audience.
"Often, they had a regular set of movie theatres or broadcast channels they went to. They never actually got to meet the people who saw the movie, unless they went to a film festival. Now with 2.0, you can not only meet them, but people expect to be reached out to."
So naturally, there was a lot of talk about interactivity. After all, the Center for Social Media—like its home at SOC—has been at the cutting edge of the digital revolution. But much of the interactivity at the conference was the old-fashioned kind: talking, asking questions, getting to know people in the field. The ideas they shared had to do with new ways to reach an audience in the digital era, but the event was personal. Intimate. A place where an AU student could chat with, say, Cynthia Lopez, vice president for American Documentary/P.O.V., a PBS documentary series.

"One of my most exciting things is to see my students there and introduce them to people and have them shake hands," Aufderheide says. "I like to throw my students out there and make them do it." 

Because that's part of what it takes to succeed. And success, for people who want to make their media matter, isn't just measured by numbers of screenings or numbers of stars in critics' reviews. It's all about reaching out and affecting others. A lot of times, that starts with a handshake.