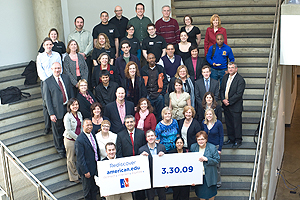 Just after 5:00 p.m. on Sunday, March 29, anyone logging on to american.edu was greeted by a vibrant, dynamic site unique in the world of higher education. Over the course of the next 10 days the new site received more than 17 million page hits, and a new era of American University on the Web, many years in the making, had dawned.
A new vision
By 2005, it was clear that AU's Web site was a relic of the '90s. Larry Kirkman, a digital media expert and dean of the School of Communication, certainly noticed. It was that year, during the provost's council summer retreat, that Kirkman brought up the need "to rethink, redesign, and retool" AU's Web presence.

A year later, in spring 2006, Neil Kerwin, who was then interim president, asked Kirkman to chair a committee to review the state of AU's Web sites, consult with experts and the community, and make recommendations for the future.

"It gave us a big picture view of what we had and where we needed to go," recalls the president's chief of staff David Taylor.
AU, it turned out, had a long way to go. "We argued that the sites should be information rich, interactive, capable of handling multiple media, and integrated into strategic communication plans for the university and its schools and colleges," Kirkman says.

"Our vision was of a tool that would integrate content across all of the schools and colleges, present the strongest face to the public, and provide deep resources for academic programs."
That was a tall order. But by fall, the university was ready to start the process. The design firm HUGE was hired to make it happen and began its work in March 2007. That work would be guided by the university's Web Steering Committee.
A good design couldn't happen if the design firm didn't understand AU, so part of the committee's role was simply to help the New York–based firm learn all about AU: its needs and strengths, its campus culture, and what its community and target audiences needed from a Web site.
One of the reasons that HUGE was selected was its interest in doing more than a quick digital face-lift.

"They don't just go out and design," says Kevin Grasty, a member of the Web Steering Committee and chair of the Redesign Working Group. HUGE, he says, focused on designing a site that would be "outward facing" by telling the world AU's story and letting the vibrancy of its activities, people, and programs "bubble up" into the online world.

For that to happen, the site couldn't just get a new "skin"—a new look—but would have to be completely rethought, from its main categories to its navigation to the extent units around campus would need to be involved in communicating their messages.
"It's moving the university into a new mode of communication," notes Taylor, project lead on the Web committee. "Yes, it's a new look, but it's also a way to create, manage, and use content. We had to get a number of people from all around campus rowing together."
The schools and units would have to cooperate in ways that had never been tried before. The Office of Information Technology would push itself into round-the-clock work. Students would contribute with feedback and AUPedia entries. The scope of the work was daunting.
Technology
Once HUGE finalized the shape and style of AU's new Web site last fall, the hard work of the university's Office of Information Technology was just beginning.
"We had to take those designs and actually make them work," says Sharjil Hasan, OIT program manager for the project. "Think of it as taking something from paper and turning it into a working system."
It was not an easy task. More than 15 OIT staffers put in about 1,500 hours on the project, even working around the clock right before the official launch on March 30.
It was truly a team effort, says Michele Handlir, director, Web development.

"We pulled together folks from all different parts of OIT. It wasn't just development; it was information security, it was emerging technologies, it was business applications, student applications, systems engineering services, and the help desk, because they've been fielding the calls."
The process began in earnest in November 2008, after HUGE delivered the visual style guide, Photoshop files, HTML of Huge-designed templates, and annotated wireframes (reference blueprints) for pages and modules. OIT then worked from HTML to develop the site.
"We implemented CommonSpot content management system (CMS)," Hasan says. "There were a lot of things on the design that were outside the scope of the tool itself. We developed the master calendar. The tool didn't support it, so we had to build it and integrate it into the system so the site looks consistent. The user doesn't know it's a separate application."
As the launch date neared, OIT engineers ran continuous performance tests to confirm that when it went live the site could perform reliably and quickly even when visitor traffic was extremely high.

"We were doing testing on a daily basis." Hasan says. "Every page [must] load within an acceptable period of time. But while we were doing this the system was still in development, so something would change and that would affect performance. We had to go back and make sure it worked."
Since developers were working during the day, much of this testing went on at night.
"Constantly evaluating the project scope and timeline was the biggest challenge," Hasan says. "You plan something, and then something else unexpected happens, and you have to react to that. Communication between the Web Steering Committee and management to make sure everyone was on the same page was key."
On nights and weekends just prior to launch, system engineers completed backup files and created a testing environment in which the site was treated as if it was live. When it performed up to engineers' standards, the green light was given to launch.
"It was a great feeling that all the hard work had paid off," Hasan says of the site's official debut. "Just before the launch we were in a panic, relief, panic, relief cycle. We knew the design was good, but when you flip the switch the biggest thing is always performance."
The days immediately before and after launch were stressful, Handlir says, but in the end she's very satisfied with how things turned out.
"It's not just geared toward the student or the prospective student," she says of the new american.edu. "It's also geared toward their parents, and the casual visitor to the AU community. It meets the needs of the entire community, and they're going to use it."
Migration
As the project progressed, it also involved more and more people across the campus community. New terms entered the AU vocabulary, like migration. Not only had a great deal of content been created and stockpiled in anticipation of the change, but the old site was full of still-relevant copy and images that had to be moved.

Someone had to manage the complexity of this migration.
Each school or unit designated its own coordinator, or Content Publishing Lead (CPL), and each would find different kinds of challenges. For Tia Sumler at SOC, the challenge was that the school already had its own well-developed Web site with its own CMS, "so we'd really tailored the way we presented content to our old CMS. We've had to rethink the way we were communicating our message and look again at ways we're promoting our faculty," she says.
SOC was already sophisticated, but in a different context. Shifting the content while maintaining the school's high standards for digital media—it is, after all, a cutting-edge school in precisely that field—has meant an enormous amount of work.

"I'm proud of the way we've done a good job of interconnecting not just the SOC site, but also the AU site—enabling students to quickly jog over to financial aid, hop over to see the academic calendar," Sumler says.

Over at the Office of Campus Life, "We had a tremendous challenge in the scope of work, because we had 15 departments, and each of those needed a new visual identity in addition to having all their content rewritten for the Web," says campus life Web developer and CPL Zach Pogue.

There were over 1,000 pages that had to migrate in that unit alone, each of which required images, revisions, and editing. For Pogue, that meant training and managing 15 coordinators who would produce content and strategize on the best ways to present their department's images. More than 100 staff profiles were written; students reviewed the site and gave feedback; changes were made up to the last minute.
Variations on that same process were happening all over campus. Dozens of people were writing enormous amounts of new content (and learning how to write differently for the Web), and then migrating it—along with older but still-useful content—to the new site.

"It was a tremendous challenge to really change this paradigm of delivering content to users," Pogue says. "We're now in an interactive paradigm where we'`re using student feedback to inform the creation of content. That is a challenge, but it's exciting to be leaders in the field."
Ready, set . . . launch

Quietly, on Sunday, March 29, the new american.edu was made available to the world.
"IT was looking at every possible scenario, and they thought it would be prudent to have a soft launch before bringing the campus together to celebrate the unveiling," says Michael Heasley, director of Web Communications. "The site performed well, so we decided at 5:00 that the launch was a 'go.' Now, the site is always on go, and we're never looking back."
Hundreds of people packed into the Abramson Family Recital Hall at the Katzen Arts Center the following day for the official launch party.

A new era at American University had begun.
"If you add up everything from the original Kirkman committee to the launch, there could have been 200, 250 people involved—and it may even be more than that," Taylor says. "There have been so many little pieces to this, and all of them were important. What a massive undertaking it's been."
And it's not over yet. The Web site is dynamic, and it will be evolving, with new and more advanced features added as early as this summer.

"I'm now working on Phase II," Pogue says. "So the job isn't done."