Academics
Creativity, Curiosity Displayed at Honors Conference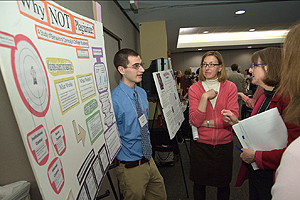 Chinese anti-Americanism. Monetary policy. JPEG image compression. Xenophobia. Ophelia. Postmodern religion.

Those were a few of the academic topics explored by 42 inquisitive seniors during the annual Honors Capstone Research Conference, April 15.

Though he's hosted the conference for nearly a decade, Michael Mass, director of the Honors Program, is still amazed by the "breadth of work and quality of undergraduate research at American University."

"These students aren't just recipients of knowledge, but full partners in the creation of that knowledge," he said.

Physics major Erek Alper dazzled the audience with his computer models of various cosmological situations, from particle motion through wormholes to the dark energy–driven acceleration of the universe, while literature major Thais Miller read an expert from her second novel, Plasticity.
Capital punishment scholars Amanda Fulton and Molly Kenney presented the curriculum on the death penalty that they developed for Washington, D.C., high school students. It offers an unbiased look at the death penalty, touching on the history of capital punishment and methods of execution.

"Our goal in doing this is not to push our own opinion, but to help others articulate an educated view of the issue," said Fulton.

Fulton and Kenney's curriculum was just adopted by the Washington College of Law's Marshall-Brennan Constitutional Literacy Project. The Marshall-Brennan fellows, who teach courses on constitutional law and juvenile justice in a dozen high schools across Washington, will begin teaching the death penalty curriculum this fall.

Sponsored by the University Honors Program, the daylong event featured 20 oral presentations on literature, politics, the sciences, and more. During the lunch break, the conference attendees browsed 20 poster presentations, chatting with the student researchers about everything from commodity price volatility to renewable energy policy.

About half of the projects – up from one-third last year – were funded by an Honors Capstone Research Grant, provided through the Office of the Provost. The grants, which cover travel and copying expenses, and experiment costs, cannot exceed $500.

This year's winners are:

Honors Capstone Research Conference Award Winners

Erek Alper, CAS, "Modeling Spacetime Dynamics"

Inna Arnaudova, CAS and SOC, "The Relationship Between Patterns of Intimate Partner Violence and PTSD Symptom Clusters Severity Among Low-Income African American Women"

Joanna Holmes, CAS, "Psychology in Two Acts: Research, Writing and Performance"

Carrie Johnson, SPA, "State-Level Renewable Energy Policy: The South Dakota Case Study"

Tejaswini Reddi, CAS, "The Intricacies of Skin Cancer: How The Tpl2 Gene Enhances Tumorigenesis and Affects Tumor Phenotype"

Matthew Espina, SIS, "New War and the Moro Islamic Liberation Front"


Honorable Mention Recipients

Jacob Choi, CAS, "Combat Evolved: Lanchester's Laws in Modern Warfare"

Amanda Fulton, SPA and SOC, and Molly Kenney, SPA, "Death Penalty Literacy: Teaching D.C. High School Students about Capital Punishment"

Joshua Hattem, SPA, "Why NOT Plagiarize? A Study of Behavioral Controls in College Students"

Abby Horowitz, SOC, "The Significance of the Ideological Meal within the Food Film Genre"

Claire Lunieski, CAS and SIS, "Commodity Price Volatility and Monetary Policy Uncertainty: A GARCH Estimation"

Thais Miller, CAS, "Plasticity"