Athletics
Lacrosse Players, Coaches Cut Hair for Locks of Love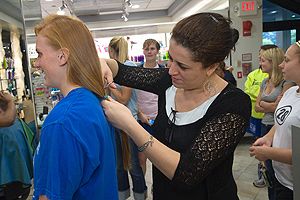 It was a feeling unlike any they've experienced on the lacrosse field.
Three members of AU's lacrosse team and two of their coaches settled into stylist chairs and got haricuts - major ones - for Locks of Love, an organization that provides hairpieces to children suffering from medical hair loss.
Juniors Amanda Makoid and Lisa Schaaf, sophomore Erin McDevitt, head coach Katie Woods, and assistant coach Courtney Farrell each got at least 10-inches of hair cut at the TIGI Boutique on the AU campus. Their commitment to Locks of Love began more than five months ago when they vowed to let their hair grow specifically to be donated for the cause.
Faster than they can fire a lacrosse ball, that five months worth of growth was gone.
"They kind of take the pony tail and cut it right off," Woods said. "They gave us free traditional cuts and styles, which was awesome."
There was no specific reason for the effort, other than the fact that the coaches and players appreciate the efforts of Locks of Love, which since 1997 has provided hairpieces to more than 2,000 financially disadvantaged children.
"It feels good to know that we are helping such a good cause," Makoid told AUEagles.com. "To donate our hair to children who are in need felt like the right thing to do and a simple gesture on our part. This is my fourth time donating hair to Locks of Love, it has become something very important to me."
Woods, for one, was a little nervous about her new look. 
"It hasn't been this short since probably seven or eight years ago," she said. "It's really short. It's so drastically different, it's just going to take a while to get used to."
But Makoid thought her coach and teammates looked fantastic with their new dos.
"I think all of our new haircuts really suit our personalities," Makoid said. "Erin's is really edgy and sassy; Lisa's is classic and mature; and they fit them very well."