Campus News
AU Celebrates Staff Members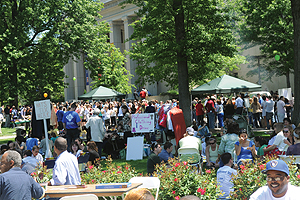 Staff Appreciation Week was filled with games, celebrations, and chances to relieve stress and energize for the future as it brought staff members together over volleyball, burgers, a scavenger hunt, board games, and even a massage chair. Staff Appreciation Week had a new and popular emphasis this year on wellness, with a kickoff of a health screening that will continue into this week and the launch of a team pedometer challenge to log the most footsteps over eight weeks.

"I'm glad the university initiated this. This is going to be an excuse for me to get out and walk," said Senem Bakar, assistant director, International Student and Scholar Services.
The "Amazing Race" scavenger hunt sent staffers around campus from the Easter Island sculpture to the Shakespearean panda.
Volleyball, as always, was a big draw. Office teams clad in colorful T-shirts jumped and spiked all day to their cheers of their office mates.
This year's volleyball winner? Appropriately enough, it was the Athletics department.

But in another sense, everybody was the winner.