On Campus
Farmer's Market Features Summer Favorites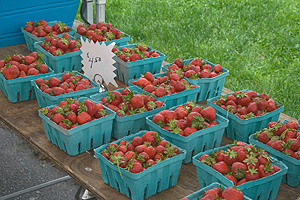 A variety of farm-fresh fruits and veggies, from asparagus to zucchini, were ripe for the picking, May 27, during AU's community market.

The market, featuring produce from D.C.'s Agora Farms, runs every second and fourth Wednesday through November. Last week's seasonal offerings included pesticide-free rhubarb, potatoes, herbs, squash, tomatoes, and strawberries.
Amy Farr, health promotion manager, brought the market to AU in order to "encourage fruit and vegetable consumption."

"It is our hope that by making fresh produce available and accessible, more people will take advantage of the service," she explained.

The event, held on the quad in front of Mary Graydon Center, is sponsored by A Healthy U, AU's Faculty and Staff Wellness Program.