In the Community
Kogod Hosts High School Students Taking EverFi Financial Literacy Program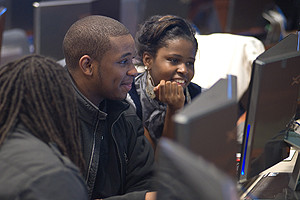 Sitting in front of a computer in the Kogod School of Business's gleaming new Financial Services and Information Technology Lab, Vivian Williams contemplated whether to buy pizza or save her money for an expensive textbook she needed.

The scenario was virtual, but ones like it will be very real next fall when the 18-year-old H. D. Woodson High School senior begins her college career at Florida A&M University. Williams and eight of her classmates, all part of the Hoop Dreams Scholarship Fund pilot program, were at AU to finish the EverFi Financial Literacy Program. The online curriculum is designed to educate 16-to-24-year-olds on the basics of everything from opening a checking account to understanding the stock market.

"It's an easy way to learn the different aspects of finances," Williams said. "I need to think about the differences between what I want and what I need. It will be hard [managing my money] in college, but I'll have a much better handle on it."

Washington-based EverFi developed the computer program, which includes 3-D gaming components and mapping, to use "digital tools that capture young people today," said Ray Martinez, the company's director of national programs. The curriculum is in 27 states and Washington, where the D.C. Chamber of Commerce Foundation purchased 1,250 licenses and is distributing them to community organizations that work with young people—organizations like Hoop Dreams.

Sending kids to college

Susie Kay '86 founded Hoop Dreams in 1996, and since then it's helped send nearly 1,000  students from Woodson and four other Washington high schools to college. The organization hosts an annual charity basketball tournament, but its mission is academic, not athletic. Its components include:
a college prep mentoring program
an internship and career prep program
an SAT prep partnership program with the Princeton Review.

Throughout its illustrious history, Hoop Dreams has awarded more than 1,600 academic scholarships and renewals totaling more than $3 million. It selected nine students to participate in the EverFi pilot program.

"A lot of our students are the first in their family to go away to school," said Theodore Brannum, Hoop Dreams program director. "They're not in a position to learn financial literacy. We thought this was an innovative, cutting-edge way to help them learn about it. It's something that has to be taught whether you're rich or poor."

The program takes about five hours to complete, and students must successfully answer a number of questions and complete scenarios in different financial modules. It's all done online, but finding computer access for students in low-income areas like Southeast Washington is not always easy.

That's where Kogod stepped in.

Opening its doors

EverFi CEO Tom Davidson and Lawrence Ward, Kogod associate dean for academic programs, were introduced by a mutual friend. Over lunch, Ward, who also sits on the Hoop Dreams board of directors, suggested that Hoop Dreams students complete the EverFi program in Kogod's new state-of-the-art lab.

"From my perspective, Kogod had an opportunity to serve the greater D.C. community by opening up our laboratory and teaching facilities to D.C. public school kids," Ward said. "Hoop Dreams has the opportunity to expand its college access programming. EverFi has the opportunity to promote financial literacy through a contemporary, technology-rich, and effective learning tool."

The students made two trips to Kogod to complete the course. After handing out graduation certificates on May 27, Davidson praised the partnership and said he hopes to continue—and expand—it next school year.

"One of the challenges we face is finding places for kids that have the infrastructure to support our curriculum," he said. "It's heavily interactive. AU has that ability in this beautiful new building, and we couldn't be happier with AU stepping up to help these kids. This is going to have a lasting impact on their lives."