Television and Film
SOC Alum Wins Student Academy Award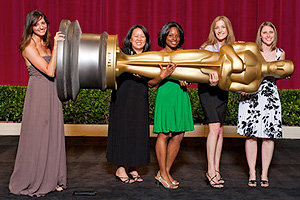 Lauren DeAngelis '08 has won a bronze medal at the 2009 Student Academy Awards for her documentary, A Place to Land.

She was awarded $2,000 and spent several days in Los Angeles participating in a slate of industry-related activities and social events, culminating in the awards ceremony on June 13 at the Samuel Goldwyn Theater. Featured presenters at the event included actor Gary Oldman, director John Landis, animator Andreas Deja and academy first vice president Robert Rehme.
DeAngelis, an online writer and editor at U.S. News & World Report, made the film, about the complications and challenges of caring for parrots in captivity, as her thesis. Joe Bohannon, an MFA candidate, was the cinematographer and sound director for DeAngelis's film.
"We're very proud of Lauren and Joe for making a marvelous film that fulfills the mission of the school's Center for Environmental Filmmaking," SOC Dean Larry Kirkman said. "This recognition by the academy of our MFA students' work, for the second year in a row, reflects the excellence and relevance of American's film program and places it among the best programs in the world."
The School of Communication Web site features stories on DeAngelis and Bohannon