Campus News
Katzen's New Green Room to Welcome 20,000 Visitors Each Year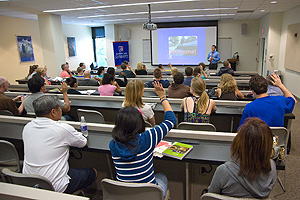 The curtain's up on the Admissions Green Room, AU's new welcome center that will set the stage for the undergraduate experience.

Nestled on the second floor of the Katzen Arts Center, overlooking Massachusetts Avenue, the airy space opened May 28, and is expected to welcome 7,500 visitors this summer. According to Sharon Alston, interim executive director for enrollment, like a green room in a theater, the center will allow the AU community to mingle with prospective undergrads and their families, treating them like VIPs.

Visitors – who number about 20,000 each year – can pick up information on AU's programs, flip through a course catalog, or study a Metro map. Over the next few months, the visitor experience will be enhanced with new technology, brochures, and other items.

Information sessions are held in a spacious, nearby classroom, and campus tours are offered every weekday at 10 a.m. and 2 p.m. Afterwards, guests are encouraged to explore the Katzen and the AU Museum.

The new Katzen location also ensures that visitors will have an easier time finding parking. The old welcome center was in Centennial Hall; Housing and Dining plans to convert the space into student lounge.