Business and Economics
IT Students Partner with Boston Firm to Calculate Eco-Savings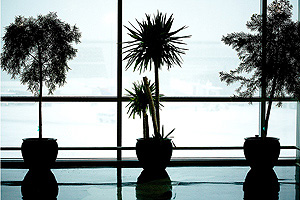 Mark Shirman knew his "green IT" consulting firm, GlassHouse Technologies, was helping customers reduce their carbon footprints through data center consolidation and migration—he just didn't know how much.

That's when Shirman, president and CEO of the Boston-based firm, which offers data management solutions for clients in the medical, financial, government, and entertainment industries, turned to his alma mater, the Kogod School of Business, for help.

Last semester, four students in Kogod's Master of Science in Information Technology Management program teamed up with Shirman, MBA '82, to quantify how much energy GlassHouse helped its clients save. The group worked on a case study of one client, a large pharmaceutical company, and also developed a methodology that would help GlassHouse assess its impact on future customers.

Led by Professor Frank Armour, the team—CaroLyn Jimenez, Shiraz Mahyera, Samar Majzoub, and Tom Sampson—also crafted a marketing and communications plan to help promote GlassHouse's environmental efforts.

"This was a really interesting field study," said Mahyera. "We did real work on real data analysis." It was a "good team effort."

Among the team's findings:

In one-year, the test firm's carbon footprint was reduced by the equivalent of 4,092 car emissions or 246 house emissions.
To offset that level of emissions, 2.1 million trees would need to be planted.
The students' findings "make sense to business people," said Natalie O'Flaherty, vice president of marketing for GlassHouse. "This is something that, as a marketing professional, I can go out and take to companies."

As a result of the students' research, GlassHouse plans to launch a new service to measure green IT this summer.