Government and Politics
The Second Amendment Takes Center Stage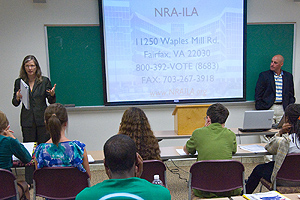 Most of the college and high school students studying at AU this summer weren't born when James Brady was shot in 1981. Many were still in diapers when President Clinton signed the Brady Bill into law in 1993.

Yet the interns from the Washington Semester Program and the Community of Scholars students sat riveted at the July 22 debate between two high-powered advocates on each side of the gun control debate.

Glen Caroline, director of the National Rifle Association's Institute of Legislative Affairs, and Becca Knox, director of research for the Brady Campaign to Prevent Gun Violence, brought the issue to life for students from several AU classes.

Summer intern Katherine Maxwell, 19, found the debate fascinating.

"I have a side, and it didn't change my opinion, but I learned a lot about the history and the debate that I didn't know," she said.

The conversation took place while just miles away from AU's Tenley campus, the Senate narrowly defeated a measure that would have allowed gun owners to carry their weapons across state lines without regard for stricter laws in other jurisdictions.

"The issue of gun policy is an issue of life and death," Knox said.

Both representatives stressed their agreement that gun control laws on the books need to be better enforced.

"Everybody would concede that every time somebody uses a gun to commit a crime or a suicide is a tragedy," Caroline said. "The question isn't the ends, it's what's the best public policy way to achieve that end."

Knox maintained enacting licensing, registration, and background checks on every sale would be a good start.

"Since the Brady Bill background checks were started, 1.6 million attempts to purchase a gun by someone not allowed to were stopped," she said. "That law works. It does not infringe on the right of law-abiding citizens to own a gun. What's the downside?"

"What we suffer from isn't a lack of gun laws, it's a need to better enforce them," Caroline countered. "We have a problem in this country right now with people using computers to prey on young children. You don't see anyone calling for a ban on the Internet. We have a huge problem with drunk drivers in this country. You don't see anyone calling for a ban on cars."

Caroline also pointed to statistics he said document the effectiveness of guns in deterring crime.

"Guns are used 2.5 million times a year for self-defense," he said, adding that in the vast majority of those cases weapons are not even fired. "They are used three to five times more often to prevent a crime than to commit a crime."

"Guns are inanimate objects, but human beings are volatile," Knox said.

When it was all over, regardless of how many opinions were swayed, many minds were enlightened.