On Campus
Freshman Enrollment  Exceeds Target Numbers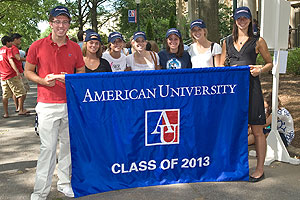 This year's freshman class is a sign of the good things that can happen with teamwork. 
Even as the economy sputtered, causing universities across the nation to fear that many admitted freshmen wouldn't show up in the fall, AU enrolled a strikingly diverse and talented group. It also exceeded its enrollment targets and increased the number of students from disadvantaged backgrounds.
A coordinated effort by many departments helped ensure that admitted students would get a clear message that they were welcome at AU, and that the university would do everything in its power to ensure they could join the campus community.

"It became a team effort," said Fanta Aw, assistant vice president of campus life, who took part in the outreach efforts that included staff across campus—from Financial Aid to Admissions to the Office of Campus Life to academic advisors in the schools and
colleges.
Every year, a small percentage of AU's admitted students put down deposits but don't end up coming to the university. It's called "freshman melt," and it's factored into the university's projections of how many students will really arrive to live in the residence halls, eat in the cafeterias, and register for classes. Usually, the melt is around 7 percent.
But this year was uncharted territory. Would the bleak economy force more students and families into making a last-minute switch to a less expensive school? Nobody knew.
So a marketing and undergraduate enrollment task force was formed to help the university meet its goals—such as expanding socioeconomic diversity—while keeping enrollment on target in difficult economic times.

Part of AU's outreach this year was purely financial. "The president made a very strong commitment to making the institution affordable to those who qualified," said Brian Lee Sang, director of financial aid. More than 80 percent of all first-year students received some form of financial assistance. That percentage is not substantially different from other years, but greater priority was given to awarding need-based grants and funding full demonstrated need. The university awarded more than $50 million in need-based grants this year.

The university was able to meet the full demonstrated need for all Pell-eligible students, he said, using university funds to exceed the amount they could receive from the U.S. government and often making AU more affordable than state schools.

"There are a lot of offices that [reach out] to students throughout the summer, and one of the main things we wanted to do was form a safety net," said Sharon Alston, executive director of enrollment management. "If somebody said, 'I want to come to AU but my dad lost his job,' or if people were expressing different concerns, we wanted to make sure we'd hear of them."

Another key piece of the strategy was communications. "One of the things I consistently heard from parents and students is—what makes AU stand out is the personal touch, and I thought, 'This is a time we can do more of that,'" Aw said. "So the message was 'We care; we want to know everything is going well; let us know if there is anything we can do for you.' I think that went a long way with students and parents."

Communications ranged from letters to 18 summer "send-off" parties hosted by alumni and parents to strong networking on Facebook. In the end, the "melt" was not significant. The goal was at least 1,500 new freshmen; as of last week, 1,537 had registered for classes.

"I think to a certain extent the students prevented themselves from melting," Alston said. "We had our own social network we pulled together this year, and I think virtually everyone in the freshman class joined that social network. Technology really helped our students to form a community before they even got here. It's hard to not come to AU when you've already made friends."