On Campus
Stellar Class of 2013 Converges on AU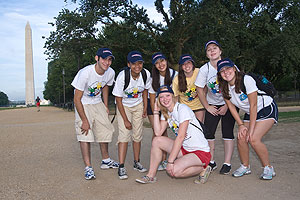 This year's freshmen are among the most diverse and academically talented AU has ever seen. 
Selected from an application pool of 15,000, the stellar class of 2013 – which includes a classical ballet dancer, a documentary filmmaker, a glass blower, and the founder of a nonprofit – is an impressive, accomplished bunch.
 
 
 Admitted freshmen boast:

average SAT of 1288
average ACT of 29
average GPA (weighted and unweighted) of 3.81

Among the 233 students enrolled in the University Honors Program, the profile is even more striking:

average SAT of 1438
average ACT of 32
average GPA (weighted) of 4.25

Another 272 freshmen are enrolled in AU's popular University College. Now in its fifth year, the program – in which students live and learn together – features 13 seminars, from sustainability and the cinema to American politics and music. Taught by some of AU's top faculty, the seminars are smaller, more interactive versions of general education classes, and are intended to spark students' intellectual curiosity and help foster friendships.

Admitted freshmen not only reflect gains in the academic profile, but the rich diversity of the student body, which hails from all 50 states, the District of Columbia, and 144 countries.

This class represents a notable increase in ethnic, racial, and socio-economic diversity. For example, as Provost Scott Bass noted, there was a 145 percent increase in high-achieving African American students eligible for federal Pell grants, and a 30 percent increase among eligible Latinos.

Shaping Active Citizens

This week, the class of 2013 fanned out across the city that will be their home for the next four years, as part of AU's 19th annual Freshman Service Experience. The 640 students donated more than 14,000 hours at 40 sites throughout the Washington area, painting walls, plucking weeds, and preparing meals.

"I wanted to experience the neighborhoods of D.C. where everyday people live," said volunteer Mia Breidenbach of Madison, Wisc.

Another 330 freshmen also participated in the Discover D.C. program, an International Student and Scholar Services initiative, which gives students a taste of the city and its abundant opportunities for active citizenship. Led by 20 upperclassmen, the freshmen explored the city for two days, meeting with neighborhood leaders. Their Washington adventure culminated in a sunset tour of the monuments.

Who Are They?

Since 1998, Beloit College has released its annual "mindset list," featuring the cultural touchstones that shape the lives of incoming freshmen.

According to this year's list, the class of 2013, the majority of whom were born in 1991, is the most "tolerant, global, and technologically hip" crop of freshmen the country has ever seen. These students:

have never used a card catalog to find a book
have always been able to read books on an electronic screen
have always watched wars, coups, and political arrests unfold on TV in real time
have always lived in a world where salsa always outsells ketchup

Click here for President Neil Kerwin's 2009 Convocation address.