On Campus
Snatch Up a Snack at Renovated Eagle's Nest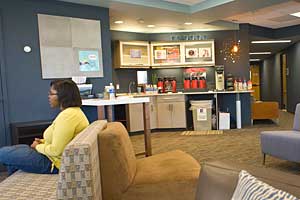 The Eagle's Nest got a summer makeover.
The cashiers' station is now situated in the center of the market, so that customers can more easily browse the Nest's offerings. Located in the tunnel next to Bender Arena, the market features ready-to-eat options, fresh fruit, coffee, groceries, and toiletries.
The space also includes a Subway sandwich shop.
Campus diners can also pick up a snack at the newly-opened Eagle Express. Located in the Mary Graydon Center, in the space formerly occupied by Pura Vida, the eatery offers packaged sandwiches, muffins, juice, and other goodies.
For those craving something spicy, Salsa, a Bon Appetit eatery in the Mary Graydon Center, offers Mexican food. The concept is similar to Chipotle, which serves up made-to-order burritos.
Students can also enjoy a cup of coffee at the Perch. Located in the former Welcome Center in Centennial Hall, the coffee spot—which will host DJ's on occasion—is open from 8 p.m. to 2 a.m. daily.