On Campus
Colossal Cucumber Sprouts in ISSS Garden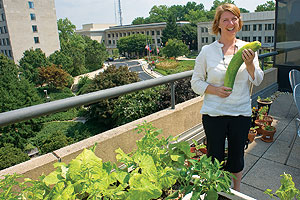 Like a little cucumber in your salad? How about 4.6 lbs. of it?
Christy Nichols, an advisor in International Student and Scholar Services, harvested a pair of monstrous cucumbers from the office's organic garden on the fourth floor Butler terrace last week. 
The voluptuous vegetable isn't the only thing sprouting in the community garden. The swath of soil also features cilantro, parsley, basil, tomatoes, peppers, mint, eggplants, and marigolds to fend off bugs.
Nichols said the strawberries are especially tasty. "We eat them every morning."