Athletics
Field Hockey Team Looking For Seventh Straight League Title . . . And More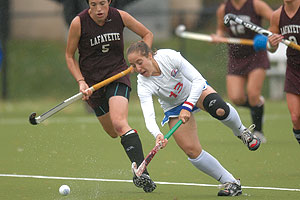 When a team has won six straight league titles and 43 consecutive matches against conference opponents, it's only natural to wonder if complacency will set in.
It's a fair question, albeit one the women on AU's field hockey team answered on Day One of their first preseason practice.

"This is a highly internally motivated team," Coach Steve Jennings said. "They did a great job in the summer getting ready for the season. This team has incredible closeness, and we can have everyone share the load. In some of the previous iterations we always felt like we had to have this person be a leader or this person do the work in one area, but this team has leadership qualities throughout."
One of those leading by example is senior co-captain Savannah Graybill. She was one of several upperclassmen who spent the summer on campus lifting weights at least three times a week and running at least four.
"We made sure everyone really stuck to it," the forward from Ephrata, Pa., said. "Not only are you running for yourself, but you're running for the team. We said if everyone else is putting in the work, you should too."
For fourth-year players like Graybill and fellow co-captains Alyssa Poorman and Anne-Meike De Wiljes, the previous Patriot League regular- and postseason titles hold little meaning this year.
"From the end of last year and all through spring, all we've been thinking about is the Final Four," Graybill said. "Along the way we need to win the league and win the Patriot League Tournament, but ultimately we are working to the Final Four. It's our last chance. If we don't make it this time, well, we're not going to ever."
The Eagles, ranked 14th nationally in the preseason poll, look primed to make a run. As they did last year, the team faces a brutal schedule that includes home matches against powerhouses like Maryland, Princeton, Iowa, and Wake Forest, the team that knocked AU out of last year's NCAA Tournament.

Last season seven of AU's eight losses were to teams ranked in the top 15 in the nation.
"We need to be able to win those tight games against the elite teams," Jennings said. "A lot of it is experience, a lot of it is poise under pressure. As we say on our team, be comfortable being uncomfortable. You have to want that moment. We want to prepare against the best each week because we want to be the best."
For AU to achieve that goal, it must get another big season from third-team All-America Christine Fingerhuth, whose 22 points and 10 goals ranked second on the team last year.
"Christine is an incredible player," Jennings said. "The sky's the limit for her, she's got a lot of talent. She's focused on getting all the deflections and rebound goals. We have a really strong line in the forward unit with Savannah Graybill as well as key contributions from a lot of our younger players who are playing great. We're going to look for everyone to score. That will be a key for us: to have a balanced attack."
Reigning Patriot League Rookie of the Year Tatum Dyer anchors the midfielders, and the veteran Poorman provides the last line of defense in goal.
"We're lucky to have somebody that's had as much experience as Alyssa," Jennings said. "Being in the NCAA Tournament, being in all those pressure games, I think she can be a real foundation for our success this year."
Success is an elastic concept. By most measures it's all AU field hockey has known for the past half-decade, but by the end of this season, Poorman and her teammates are hoping they will have redefined the term for future generations of Eagles.