On Campus
Ride On: AU Expands Shuttle Bus Service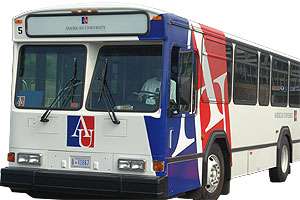 Traversing Tenleytown just got easier, as Transportation Services has enhanced shuttle bus service across campus.
A sixth bus has been added to AU's fleet to reduce waiting time during peak hours: 7 a.m. to 8 p.m., Monday through Friday. In addition to the buses that shuttle passengers from the Tenleytown Metro stop to main campus or the Washington College of Law (WCL) during peak hours, a new "super loop" bus will operate during nonpeak hours and weekends. This super loop—or white route—will travel from the Metro to both main campus and WCL.
For those who take the Metro to campus or frequently travel between offices, the AU shuttle bus is a vital piece of the transportation net. Each month, the buses—which operate 360 days a year—shuttle 100,000 people to main campus and 20,000 passengers to the law school.

Since 2004 ridership has averaged more than 1 million passengers every year.
The service improvements come on the heels of a study conducted in June by an independent consulting firm, which sought to analyze the efficiency of the shuttle system, evaluate the environmental impact, and recommend transit technology needs. Recommendations were also solicited from the AU community and the shuttle drivers.