Government & Politics
Ambassador Marc Grossman Is Speaker for Adair Memorial Lecture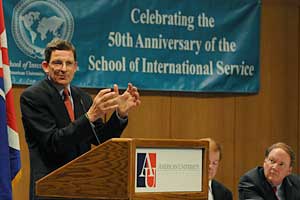 Former U.S. ambassador to Turkey Marc Grossman delivered the third-annual Caroline and Ambassador Charles Adair Memorial Lecture Sept. 2 before a packed crowd at the Kay Spiritual Life Center.

Speaking about the "Evolving Role of U.S. Diplomacy and Foreign Service Challenges," Grossman drew on his 29 years of public service to look forward to the future.

"Americans need to know about the diplomacy" being done in their names, he said. "Successful American diplomacy will be built on values, alliances, coalitions, and be backed by the greatest military force ever assembled."
The talk was sponsored by the School of International Service, Washington Semester program, and the American Foreign Service Association. Grossman, now vice chairman of the Cohen Group, served as under secretary of state for political affairs from 2001 to 2005, assistant secretary of state for European affairs from 1997 to 2000, and
U.S. ambassador to Turkey from 1994 to 1997.

When he retired from the State Department in 2005, he was the third-ranking official supporting U.S. diplomacy worldwide. Following the September 11 attacks, he helped marshal international diplomatic support for the global war on terrorism and for the military campaigns in Afghanistan and Iraq.

His talk identified five trends that shape the world today:

•    the fight against extremism and terrorism
•    globalization
•    the need to restore the global balance in ways that promote pluralism
•    the need to conserve and rationally use and allocate the earth's resources
•    nuclear proliferation

While acknowledging the challenges, Grossman's outlooks remained generally positive.

"There is cause for optimism," he said. "If you look around the world you can see all the opportunities."