On Campus
Kermit Washington Fasting To Raise Money For Project Contact Africa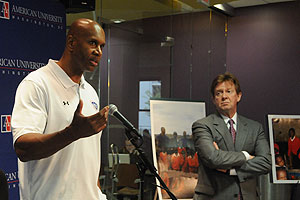 Kermit Washington will feel the hunger pains, but won't succumb to them. For 72 hours, not a morsel of food will pass through his lips.
"I know that if I really wanted to eat, I could," said Washington '73, who started a three-day "Fast for the Hungry" on campus Sept. 11 to raise money for his charitable organization, Project Contact Africa. "The people in Africa can't. That's the difference. I would never let the people down who are supporting me by eating."  
This is Washington's second-annual fast. Last year he dropped 18 pounds while consuming only water for five days. That effort raised roughly $25,000 for his organization, which runs a school, health clinic, and food distribution center in Nairobi, Kenya. This year he hopes his long weekend without food, which he'll spend in a RV on the quad, raises $30,000.  
"You try to identify with the people you're helping," said Washington, who last ate lasagna for dinner Thursday night. "We're very fortunate to be born in America. When you go overseas you learn that."  
Washington conceived of the idea for a fast while on a flight to Nairobi. In Africa just $1.50 can produce 10 meals of rice, beans, and cornmeal, he said. In addition to raising money, the event provided AU students with an opportunity to learn more about the issue.
In conjunction with Washington's fast, the university hosted an African nongovernmental organization fair, and the School of International Service sponsored a panel discussion entitled "Bringing the Hunger Issue Home: Africa and America."
Among the topics discussed was the plight of African refugees.  
"There are 15 million refugees in the world, and 20 percent of them come from Africa," said Rep. John Conyers, D-Mich. "The refugee question is only a small sliver of the larger question of oppression on the African continent that has not just been oppressed as a historical fact, but they're being oppressed at this minute in many, many ways."  
Washington is perhaps the most accomplished athlete in AU history. As a senior he averaged an astounding 21 points and 21 rebounds per game en route to earning All-American honors. After an eight year career in the National Basketball Association, he was an All-American once again, earning induction into the GTE Academic All-American Hall of Fame in 1993.  
The next year he went to Rwanda and witnessed firsthand the desperate need in Africa for medical supplies, food, and education. That led the creation of Project Contact Africa in 1995.
"Kermit left us, literally, the epitome of the American University student-athlete," AU President Neil Kerwin said during Washington's fast kickoff Friday morning at the Mary Graydon Center. "He finished with a grade point average of 3.8. He was an All-American in basketball and went on to [have] a great career in the NBA. But he found his life's work, his love, in bringing food and technology to Africa."